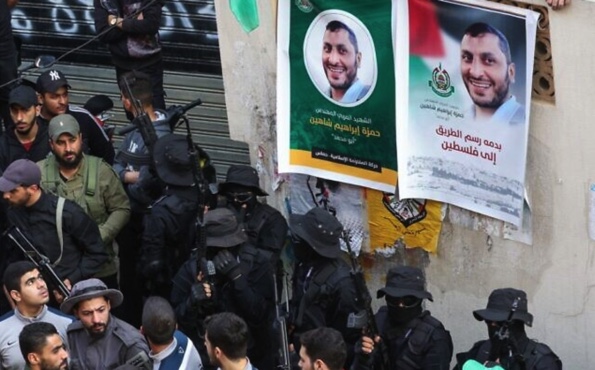 In The News
Deadly clashes break out during funeral for Hamas member in Lebanon refugee camp
Several people were killed during an armed clash in the Burj Shamali refugee camp in Lebanon on Sunday, during the funeral of a Hamas member who died in an explosion in the camp two nights before, medics said.
Hamas official Raafat al-Murra said gunmen from the rival Fatah movement "shot at the funeral procession," killing at least three members of the terror group.
On Friday night, an alleged Hamas weapons depot hidden underneath a mosque in the camp, located near the port city of Tyre, exploded, killing Hamza Shaheen. The terror group claimed Shaheen as a member, but did not state what his position was. In an announcement following his death, Hamas said that he was "martyred in a mission of jihad."
Four were killed and several others were hurt in the clash in the refugee camp during the funeral on Sunday, the Hamas-linked al-Resalah news outlet reported, citing medical sources in Lebanon.
In video footage from the funeral, heavy gunfire can be heard.
On Friday, reports said a fire started in a diesel tanker and spread to a nearby mosque controlled by the Palestinian terror group. The fire then set off some of the weapons that appeared to have been stored inside the mosque, according to the residents.
Read More: Times of Israel