US-Israel Relationship
David Friedman sworn in as President Trump's envoy to Israel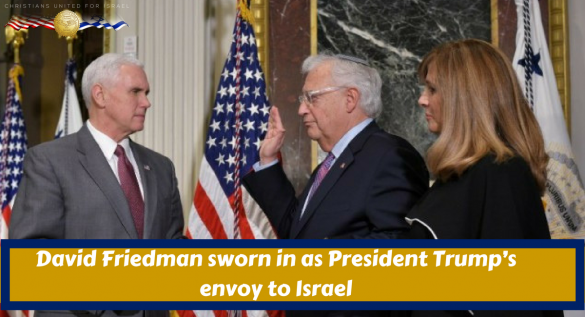 Bankruptcy attorney David Friedman has been sworn in as US envoy to Israel, becoming President Donald Trump's first ambassador to take office.
Vice President Mike Pence administered the oath of office Wednesday to Friedman, who is Trump's former bankruptcy lawyer.
Pence called Israel the United States' "most cherished ally," while Israel's envoy to Washington Ron Dermer was present for the ceremony.
The Senate confirmed Friedman's nomination by a vote of 52-46 last week, largely along party lines.
Lawmakers brushed aside complaints from Democrats that Friedman lacked the temperament for such a top-flight diplomatic post. At his Senate confirmation hearing in February, Friedman acknowledged making incendiary comments about former President Barack Obama, former Secretary of State Hillary Clinton and liberal Jewish advocacy groups.
"David, you literally were born for this job," Pence said. "It is because of families like yours that the Jewish people are such a beautiful thread in the fabric of this nation."
The son of an Orthodox rabbi, Friedman has been a fervent supporter of Israeli settlements and an opponent of Palestinian statehood.
Speaking after taking the oath, Friedman said that the fact that he was the first envoy approved by the Senate and sworn in "speaks volumes about how highly the Trump-Pence administration prioritizes our unbreakable bond with the State of Israel."
"I've also been deeply inspired by the leadership of Secretary [of State Rex] Tillerson, and I look forward to working with him to promote peace and stability within the Middle East," Friedman said.
Read more: Times Of Israel