United Nations (UN)
Danon urges action by UN Security Council after terror groups kill Israeli student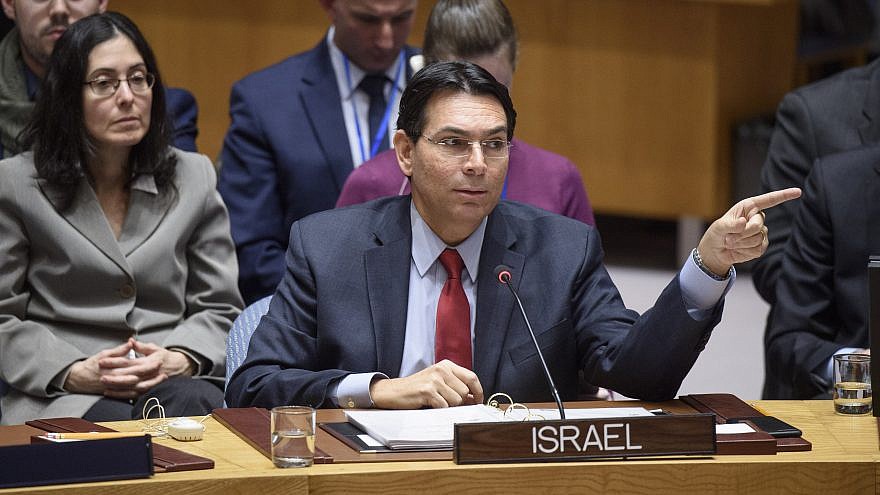 (August 8, 2019 / JNS) Israeli Ambassador to the United Nations Danny Danon urged the world body to condemn the murder of an Israeli teen in an apparent terrorist attack in the West Bank on Thursday.
In a letter addressed to Poland's U.N. ambassador Joanna Wronecka, whose country currently holds the rotating presidency of the Security Council, Danon pushed the body to condemn the stabbing to death of Dvir Sorek, 19, a yeshivah student and Israel Defense Forces' recruit, and stop the payment of salaries to Palestinian terrorists.
"The attack and its glorification are the direct result of the Palestinian leadership's ongoing policy of educating and incentivizing its youth to kill Jews throughout Israel," Danon wrote in the letter. "I call upon the Security Council to condemn this sickening act of terror immediately, unequivocally and in the strongest terms possible. It is the duty of the Council to put an urgent stop to all Palestinian incitement efforts."
Meanwhile, American Jewish groups condemned the murder of Sorek and urged the international community to take action against the Palestinian Authority's "pay to slay" policy.
"We join the people of Israel in mourning the loss of 19-year-old student Dvir Sorek, from the community of Ofra, who was studying at Yeshivat Migdal Oz. This was a dastardly act of terror and cold-blooded murder of a student who was found still clutching the books he had just bought in Jerusalem. We extend our deepest condolences to Dvir's family, which has already suffered grievously from previous terror attacks," said Arthur Stark, chairman, and Malcolm Hoenlein, executive vice chairman and CEO of the Conference of Presidents of Major American Jewish Organizations.
"The international community must join in condemning this attack and those who incited, abetted and supported it," they continued, "especially the continuing 'pay to slay' grants of the Palestinian Authority."
Similarly, Mark Mellman, from the Democratic Majority for Israel, extended his deepest condolences to the Sorek family.
"At the same time, we are disgusted but not surprised that Hamas and the Iranian-backed Islamic Jihad celebrated his murder, calling it 'heroic,' " he said. "These senseless terrorist attacks leave families grieving and make it even more difficult to find a lasting peace between Israelis and Palestinians."
Sorek was laid to rest on Thursday evening in the Jewish community of Ofra in Samaria.
Read more: Jewish News Syndicate