Terrorism
Cop injured in Jerusalem stabbing attack; 2 assailants shot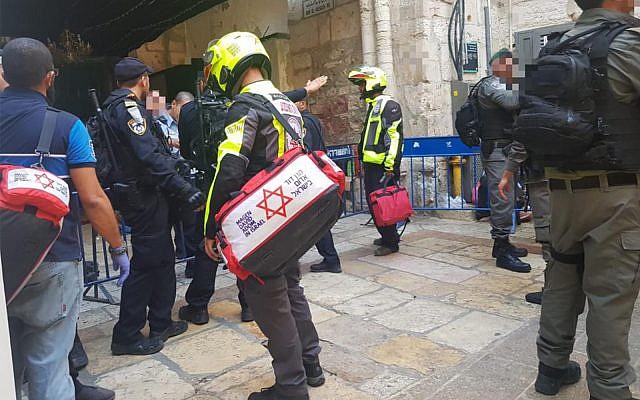 Two teenage assailants stabbed a police officer, moderately injuring him, in a terror attack in Jerusalem's Old City on Thursday, officials said.
The assailants were shot by security forces at the scene. One of them was pronounced dead at the scene, the second was critically wounded and taken to the hospital, a police spokesperson said.
Graphic video footage from the scene showed the two teenagers walk up from behind a group of police officers stationed in the Old City. As they approached, they suddenly pulled out knives and began repeatedly stabbing one of the cops. Other officers at the scene opened fire at the pair as they were stabbing the victim.
The injured police officer was approximately 40 years old. He sustained multiple stab wounds to the upper body, medics said.
"We gave him medical care, including stopping the bleeding and bandaging him, and we took him to the hospital," one of the medics on the scene said.
The officer was taken to Jerusalem's Shaare Zedek Medical Center.
"After being diagnosed in the trauma unit, he as transferred for a series of tests and additional care," a hospital spokesperson said.
The stabbing attack occurred outside the Old City's Chain Gate. The surrounding area was closed off, police said.
The attack came amid heightened tensions surrounding the Old City's Temple Mount, following clashes at the holy site last week.
Read more: The Times of Israel