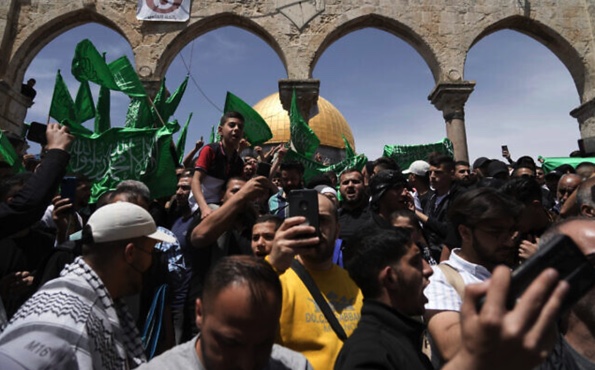 In The News
Clashes resume as Palestinians wave Hamas flags on Temple Mount after Friday prayers
Clashes resumed at the Temple Mount following Friday afternoon prayers for Ramadan, hours after Palestinians skirmished with Israeli police at the flashpoint holy site in Jerusalem's Old City.
Tens of thousands of worshipers took part in the main prayers for the third Friday start of the Muslim holy month. There were no official turnout figures, but some Palestinian media reports estimated as many as 150,000 worshipers attended.
Many in attendance waved Palestinian and Hamas flags and chanted slogans in favor of the Gaza-ruling terror group, which called for a "mobilization" ahead of the prayers.
"We are the men of Muhammed Deif," they chanted, referring to the head of Hamas's military wing.
They also shouted about a seventh-century battle in which Muslim forces massacred and expelled Jews from the Arabian Peninsula town of Khaybar. Another chant included calls to violently "redeem Al-Aqsa," the mosque atop the Temple Mount.
Read More: Times of Israel