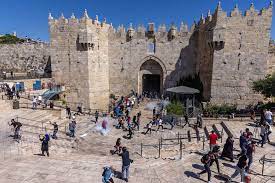 In The News
Clashes erupt between Border Police, Palestinians at Damascus Gate
Clashes have erupted between Border Police officers and Palestinians at Damascus Gate in Jerusalem on Monday.
Palestinian media reported Israeli forces fired tear gas and stun grenades at Palestinians who were rioting and throwing rocks and bottles towards officers.
Israel Police said three Palestinians were arrested for their involvement in attacking the Border Police officers and disturbing public order.