Christian Persecution
Christians mark Easter at Church of Holy Sepulchre in Jerusalem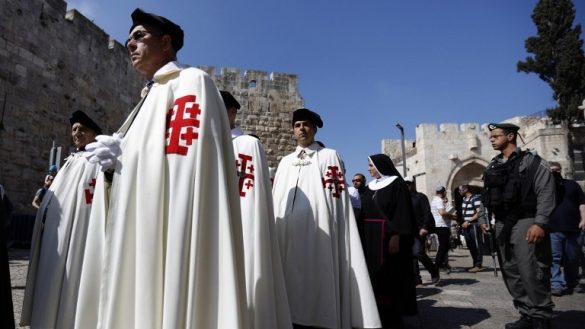 Thousands of Christians marked Jesus's resurrection on Easter Sunday at the Jerusalem site where they believe the miracle occurred, with some prostrating themselves over his tomb and leaving in tears.
Visitors and worshippers filed through the Church of the Holy Sepulchre, built on the site where tradition says Jesus was crucified, buried and resurrected.
It was the first Easter since the unveiling in March of renovations to the ornate, 19th-century shrine covering Jesus's tomb following a $3.7 million project that restored its stones to their original reddish-yellow and reinforced the heavily visited site.
This year's holiday also fell on the same date for both Western and Eastern Christians, an irregular occurrence since they follow different calendars.
Masses were staggered throughout the day for the various denominations that co-exist, often uneasily, in the church in Jerusalem's Old City.
As mass was underway, visits continued, with pilgrims rubbing clothing, veils and even pictures on mobile phones against the shrine over the tomb and the stone where Jesus's body was anointed after his crucifixion.
Visits underground to the tomb itself were however off limits during masses.
"It's beautiful," Michael Hanna, 64, a Coptic Christian originally from Egypt but who has lived in Australia since 1980, said of his visit.
Read More: Times of Israel