Hamas
Christian Group Mounts a Strong Defense for Israel in Washington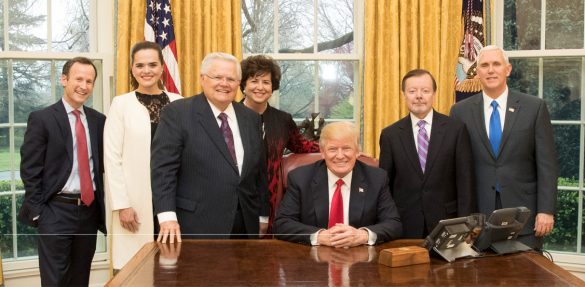 "An unidentified guest uses a Trump Hotel branded umbrella as she walks into the West Wing of the White House," read the caption of an Associated Press photo in the Washington Examiner picturing an attractive young woman whose face is becoming increasingly familiar in Washington political circles.
Sandy Hagee Parker is the chairwoman of Christians United for Israel Action Fund (CUFI), the lobbying arm of the largest pro-Israel organization in the country. An accomplished attorney, she is also the daughter of Pastor John Hagee, founder and chairman of the influential Israel advocacy group.
According to a CUFI source close to the situation, Ms. Parker came to the White House with her father, as well as her mother Diana Hagee, CUFI director David Brog and CUFI Action Fund Washington director Gary Bauer.
"As part of our growing relationship with the administration, CUFI leadership met with Vice President Pence and visited with the president," the source told the Haym Salomon Center. "The meeting with the vice president was off the record, but the principals discussed working together to strengthen the U.S.-Israel relationship, and CUFI leadership reiterated the central importance of this issue to our near 3.5 million members."
Read More: Washington Times