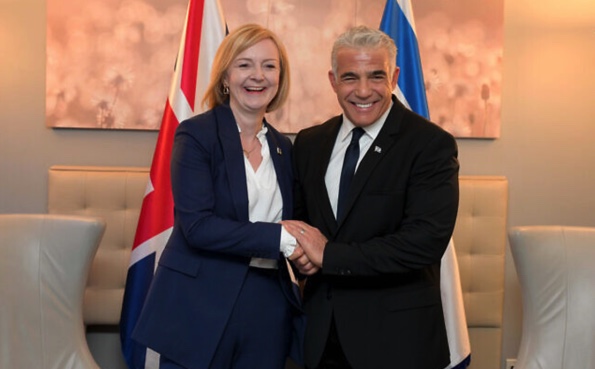 In The News
British PM tells Lapid she is reviewing relocation of UK embassy to Jerusalem
NEW YORK — British Prime Minister Liz Truss told Prime Minister Yair Lapid on Wednesday at the United Nations that she is reviewing a relocation of the country's embassy from Tel Aviv to Jerusalem.
A spokeswoman for Downing Street told The Guardian that Truss told Lapid "about her review of the current location of the British Embassy in Israel."
Lapid tweeted his thanks to the British leader for considering the move. "We will continue to strengthen the partnership between the countries," he said.
When former US president Donald Trump ordered Washington to relocate its embassy to Jerusalem in 2017, the UK prime minister at the time, Theresa May, criticized the move.
Truss, however, told the UK's Conservative Friends of Israel last month, before she became prime minister, that she would review the UK's decision to remain in Tel Aviv if she became the British leader.
Read More: Times of Israel