Jerusalem
'Brazil will move its embassy to Jerusalem in 2020'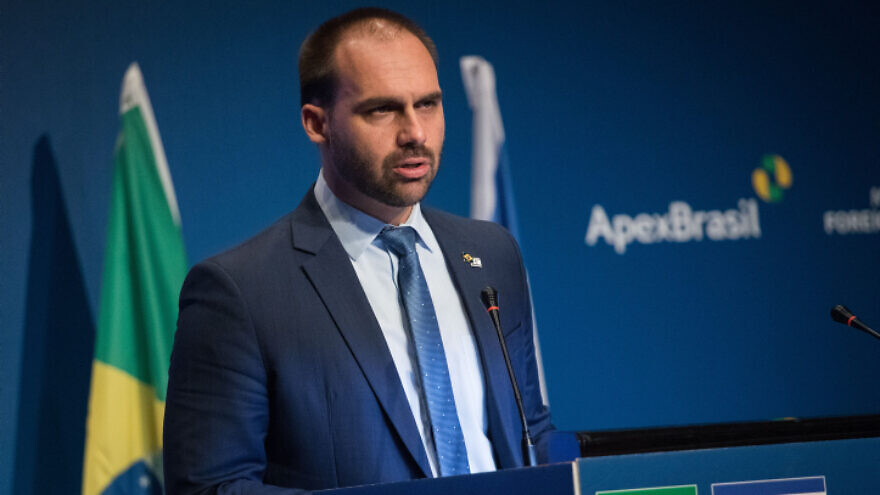 (December 16, 2019 / Israel Hayom) Senior Brazilian lawmaker Eduardo Bolsonaro said on Sunday that Brazil was committed to moving its embassy to Jerusalem in 2020.
Speaking at the opening event in Jerusalem for a Brazilian Trade and Investment Promotion Agency (APEX-Brasil) office, Bolsonaro, who is the son of Brazilian President Jair Bolsonaro, said that he had spoken with his father prior to arriving in Israel and that the president "intends to move the embassy to Jerusalem and … he will do it."
Such a move, said Bolsonaro, would be "natural and normal."
"He [President Bolonaro] will move the [Brazilian] Embassy to Jerusalem. It's not something extraordinary. It's supposed to be a natural and normal thing. We want to move to Jerusalem not just for Brazil, but to set an example for all of Latin America," said Bolsonaro Jr. according to The Jerusalem Post.
It was reported earlier this year that Brazil had decided against relocating its Israel embassy due to opposition to the move in the Brazilian government.
Netanyahu said at the event that the opening of the Brazilian trade office in Jerusalem was part of the "strengthening ties between Israel and Brazil."
"I would like to express my appreciation for President Bolsonaro's stances supporting Israel in international forums. President Bolsonaro changed [Brazilian] policy immediately and said, 'We stand with Israel, we stand by the truth.' We here in Israel stand with Brazil because we stand by the truth, and we support Brazil in any way we can," said Netanyahu.
Bolsonaro, who chairs the Foreign Affairs and National Defense Committee of the Brazilian National Congress' Chamber of Deputies, also said that the two countries needed to fight terrorism together, and that "sooner or later" Brazil would declare Hezbollah a terrorist organization.
"Mr. Benjamin Netanyahu, we will fight terrorism together. If we want to prevent terrorist attacks, we must demonstrate strength. So sooner or later, we [Brazil] will declare Hezbollah a terrorist organization," he said.
Earlier on Sunday, Netanyahu had issued a warning to Hezbollah leader Hassan Nasrallah, saying that if Hezbollah attacked Israel, both Hezbollah and Lebanon would pay a "heavy price."
Speaking at the weekly Cabinet meeting, Netanyahu said, "In recent days we have heard a senior Iranian Revolutionary Guard commander again threaten that Iran will destroy Tel Aviv from Lebanon. He thus reveals a simple truth: Hezbollah is simply Iran's arm in Lebanon against Israel.
"Even though Nasrallah immediately denied the senior Iranian commander's remarks, I would like to make it clear that if Nasrallah dares to attack Israel, the organization and the Lebanese state that enable aggression from its territory against us will pay a very heavy price," Netanyahu continued.
Read more: Jewish News Syndicate