Jerusalem
Brazil opens Israel trade mission in Jerusalem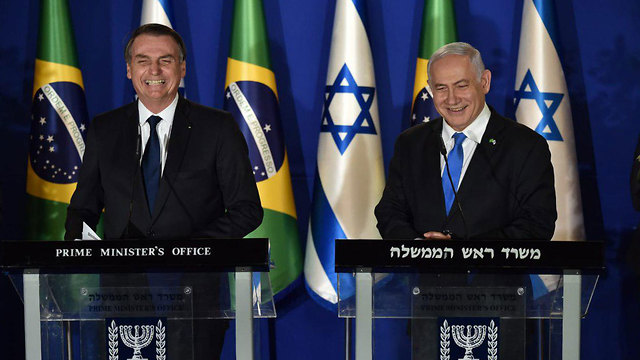 Brazil opened a new trade mission to Israel in Jerusalem on Sunday, edging back from earlier signals it would follow the United States with a full embassy move to the contested city.
The announcement came during a visit by Brazilian President Jair Bolsonaro, an outspoken admirer of President Donald Trump, who broke global consensus by recognizing Jerusalem as Israel's capital in late 2017 and moving the U.S. embassy there last May.
Prime Minister Benjamin Netanyahu said: "Welcome to (Israel) brother Jair. Welcome to the Brazilian president and delegation. I am very excited as Sara and I, along with our son Yair, were at your inauguration. You represent a new hope for Brazil. Clearly this is the start of a wonderful new period in Brazil-Israel relations."
The Brazilian President responded: "I feel as if I have arrived home. It looks like you named your son after me." Netanyahu responded that "chronologically, that is correct." Bolsonaro: "Brazil is a giant and rich country; that is why our two countries are close, religiously, culturally and democratically."
Bolsonaro had suggested in January he would follow suit. That could have been a boost for Israeli Prime Minister Benjamin Netanyahu, who hopes to win a fifth term in an election next week.
Read More: Ynet News