Hamas
Border policeman lightly hurt by explosive as thousands riot on Gaza border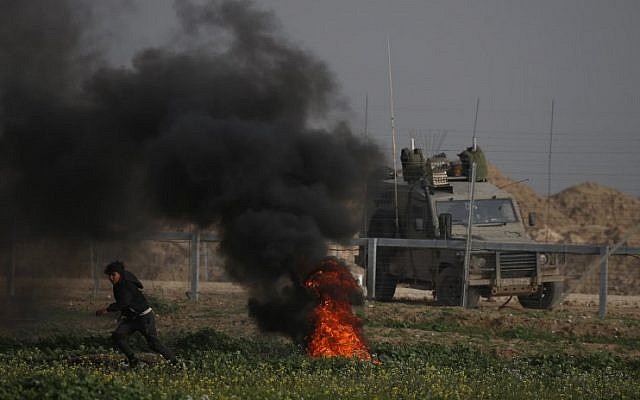 Several thousand Palestinians gathered near the Gaza Strip's border with Israel Friday afternoon for weekly protests against Israel, burning tires, throwing stones and trying to breach the fence.
An Israeli border police officer from an undercover unit was lightly wounded by shrapnel in the leg when pipe bomb exploded next to his team, police said. He was evacuated to hospital for treatment.
The army said some rioting was taking place, with demonstrators attempting to sabotage the border fence. Troops were responding with tear gas and occasional live fire to push protesters away from the barrier.
The Hamas-run Gaza health ministry said two Palestinians had been injured by live fire.
Meanwhile in the West Bank the Ynet news site reported that a Palestinian was seriously wounded by Israeli fire during a riot in a village near Nablus.
The riot began after villagers in Urief held a protest prayer session in the eastern part of the village, to challenge the army's recent move to block a path leading to residents' agricultural lands. It was not immediately clear why the path had been sealed off.
Last Friday three people died and 17 were wounded during protests at the Gaza border. At the time, the Israeli army said some 8,200 rioters and demonstrators had gathered along the border to throw stones and a number of explosive devices towards troops.
Since last March, the Gaza border has seen large-scale weekly clashes on Fridays, smaller protests along the northern Gaza border on Tuesdays, as well as periodic flareups between the Israeli military and Palestinian terror organizations.
For the past several months, Egypt, UN special coordinator to the Middle East peace process Nikolay Mladenov and Qatar have worked to try to restore calm in Gaza and prevent flareups between Israel and terror groups in the Strip.
Israel has demanded an end to the violent demonstrations along the border in any ceasefire agreement.
Read More: Times of Israel