Israel Defense Force (IDF)
Bomb detonated on IDF force patrolling Gaza border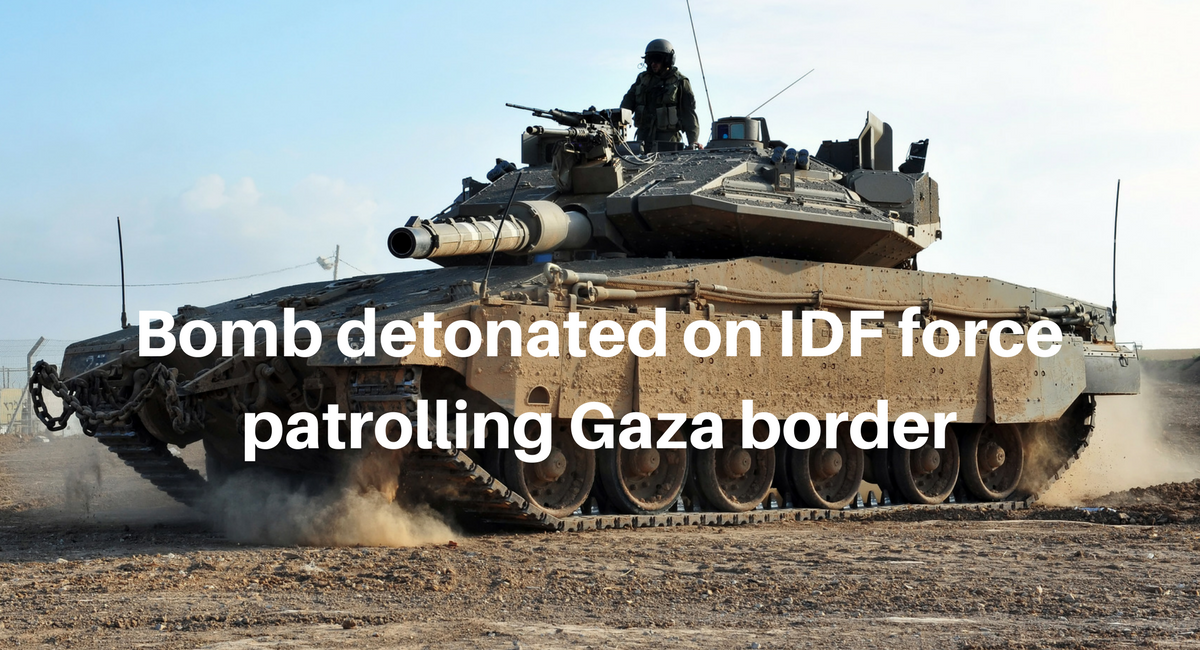 An explosive device was detonated on an IDF patrol along the Gaza Strip border on Saturday and a tank fired a shell at an observation post in response to the attack, the army said,
The incident occurred in the southern Gaza area near the city of Khan Younis, the IDF said. Many additional details were not immediately released for publication, including any information about possible casualties.
Channel 10 reported that a patrol from the Golani infantry brigade had discovered a suspicious object. When they tried to neutralize it, a large explosion occurred. Hadashot TV news said the patrol stopped along the border to remove a flag that had been placed at the fence a day earlier, and that a device planted below the flag then detonated.
The TV reports said further IDF retaliatory fire was likely.
Israel Radio's military correspondent called the incident "serious" and "irregular," and Hebrew media reports said large IDF forces had been moved into the region.
Palestinian media said the observation post belonged to the Palestinian Islamic Jihad.
Islamic Jihad has been vowing to avenge an incident where Israel destroyed one of the terrorist group's attack tunnels that crossed from Gaza into Israel, killing many of the groups members.
On October 30, the IDF blew up the tunnel, which originated in the Gazan city of Khan Younis and crossed into Israeli territory, near Kibbutz Kissufim.
According to the army, the tunnel had been under surveillance the entire time that it was inside Israeli territory and did not pose a threat to civilians.
Some 14 terrorists, mostly from the Iran-backed group, including two senior officers, were killed in the blast and its aftermath. The army said later that this was not the primary objective of the tunnel demolition.
The incident comes amid mounting warnings that tensions in Gaza could lead to a new conflict between Israel and Gaza's Hamas rulers. Israel holds Hamas responsible for any violence emanating from the Strip.
Last week IDF Chief of Staff Gadi Eisenkot warned ministers during a cabinet meeting that Israel could soon face another war with Gaza-based terror group Hamas, as a result of the deteriorating humanitarian and economic conditions in the coastal enclave.
In a security assessment handed recently to Prime Minister Benjamin Netanyahu, the defense establishment reiterated its belief that Hamas is not interested in another conflict with Israel. However, an economic collapse would make such a scenario inevitable.
Read More: Times of Israel