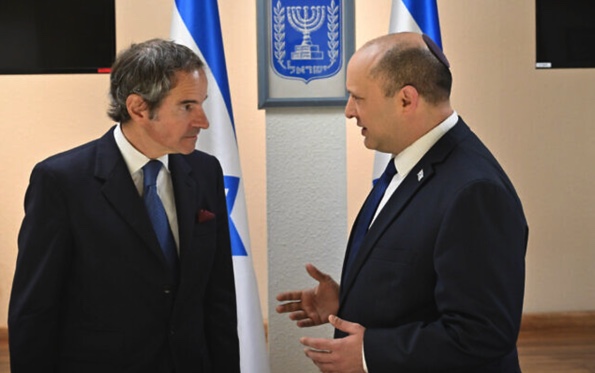 In The News
Bennett to IAEA chief: Israel reserves right to act against Iran's nuclear program
Prime Minister Naftali Bennett met Friday with the visiting head of the UN's atomic watchdog for talks focused on Iran's nuclear program.
A statement from Bennett's office said the premier warned International Atomic Energy Agency chief Rafael Grossi that Iran was pushing ahead on developing a nuclear weapon while misleading the world with "false information and lies" to conceal its work.
Bennett stressed the "urgent need" to confront Iran using "all means" to prevent it from acquiring nuclear arms, according to the Prime Minister's Office. He also called for the IAEA to send Tehran a "clear and unequivocal message" at an upcoming Board of Governors meeting dealing with undeclared Iranian nuclear sites.
"Bennett made it clear that while Israel prefers diplomacy in order to deny Iran the possibility of developing nuclear weapons, it reserves the right to self-defense and to take action against Iran in order to block its nuclear program should the international community not succeed in the relevant timeframe," the statement said.
Grossi, who was returning to Vienna after the meeting, said he and Bennett had "important exchanges on topical issues."
Read More: Times of Israel