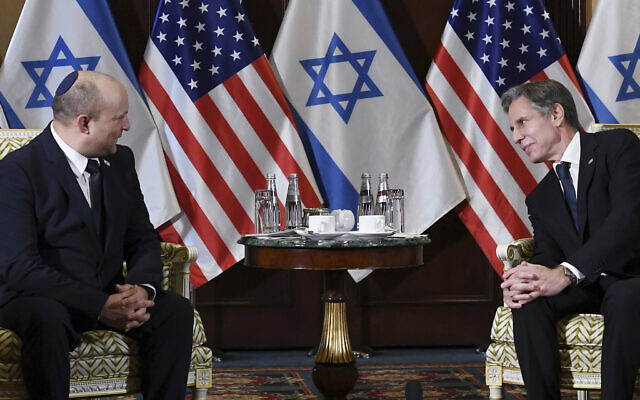 In The News
Bennett to Blinken: US must immediately halt Iran talks over 'nuclear blackmail'
Prime Minister Naftali Bennett called on the United States on Thursday to immediately halt the ongoing negotiations in Vienna over Iran's nuclear weapons program.
Bennett spoke on Thursday with US Secretary of State Antony Blinken, in a conversation that largely focused on the Iranian talks, according to a statement from the Prime Minister's Office.
Bennett told Blinken that Iran was utilizing "nuclear blackmail" as a tactic and therefore the United States should initiate "an immediate cessation of negotiations."
According to the Prime Minister's Office, Blinken provided Bennett with an update on the talks, which restarted earlier this week in Vienna months after they were suspended. The State Department did not immediately provide its own readout of the call.
In the phone conversation, Bennett referenced a report by the International Atomic Energy Agency revealing that Iran has recently begun enriching uranium to 20% purity with advanced centrifuges at its Fordo facility.
Bennett told Blinken that instead of a return to the 2015 nuclear deal — which the United States pulled out of in 2018 — "concrete steps" against Iran should be "taken by the major powers."
The United States is participating indirectly in the negotiations with Tehran in Vienna, which restarted on Monday.
Read More: Times of Israel