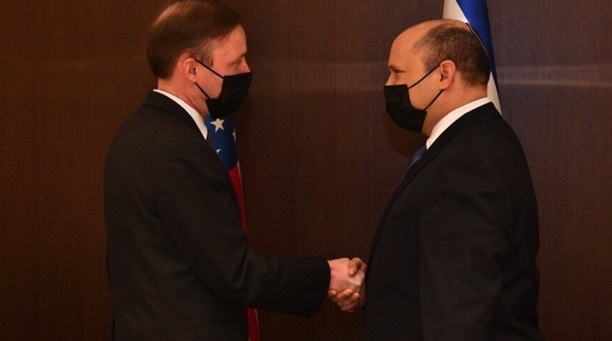 In The News
Bennett, Sullivan meet in Jerusalem
Israeli Prime Minister Naftali Bennett met with U.S. National Security Advisor Jake Sullivan on Wednesday at the Prime Minister's Office in Jerusalem.
The two discussed a variety of subjects, among them the ongoing negotiations in Vienna between Iran and the other signatories to the 2015 Joint Comprehensive Plan of Action nuclear agreement, according to a statement from Bennett's office.
Israeli Ambassador to the U.S. Mike Herzog and U.S. Ambassador to Israel Thomas Nides, along with other senior officials, also attended the meeting.
Prior to his meeting with Bennett, Sullivan held a working meeting with his Israeli counterpart, Eyal Hulata.
"These days are pretty important," said Bennett at the start of the meeting. "What happens in Vienna has profound ramifications for the stability of the Middle East and the security of Israel for the upcoming years. And that's why it's such a timely meeting."
The relationship between the two countries is "as strong as ever," said Bennett, adding that it was for this reason the two sides could talk "openly and candidly about all the shared challenges that we're facing."
Read More: JNS