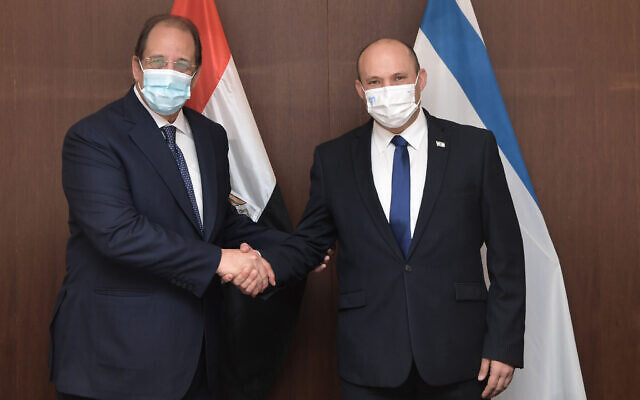 In The News
Bennett meets Egyptian spy chief on Gaza, is invited to visit Cairo within weeks
Egyptian President Abdel-Fattah el-Sissi has invited Prime Minister Naftali Bennett to make an official visit to Egypt within the next few weeks, the premier's office announced Wednesday.
The invitation was relayed to Bennett by Egyptian General Intelligence Directorate chair Abbas Kamel, who was visiting Jerusalem for talks with the prime minister and Defense Minister Benny Gantz.
The meeting with the Egyptian spy chief was the first since Bennett took office in June.
Bennett and Sissi had previously agreed to meet when they spoke by phone shortly after Bennett's government was sworn in.
The visit would be the first public visit by an Israeli premier since 2011, when prime minister Benjamin Netanyahu met with president Hosni Mubarak in the Sinai resort city of Sharm el-Sheikh. Netanyahu also reportedly paid a secret, unofficial visit in 2018.
Read More: Times of Israel