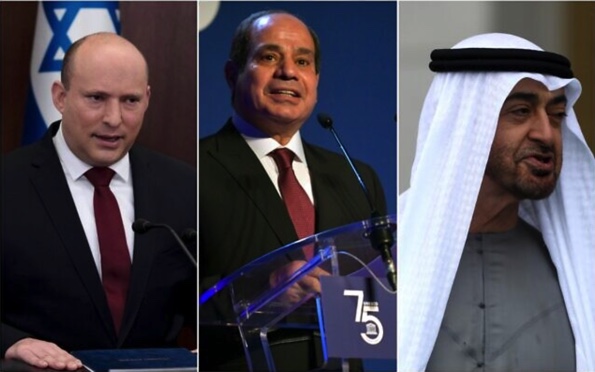 In The News
Bennett in Egypt for first-ever trilateral summit with Sissi and UAE crown prince
Prime Minister Naftali Bennett was in Egypt on Monday for the first-ever trilateral summit of Israeli, Egyptian and Emirati leaders, an Egyptian official told The Times of Israel, confirming the premier's unannounced visit to the Sinai resort town of Sharm el-Sheikh.
Bennett first met with Sissi shortly after arriving in the city, the official said. The Prime Minister's Office has yet to comment on the trip, which comes days after Israel announced the inauguration of a new flight route between Ben Gurion Airport and Sharm el-Sheikh.
Flights are expected to start as early as next month, during the week of the Passover holiday. The news was widely covered by Israeli media, though it was barely mentioned in the Egyptian press.
Bennett last met with Sissi in September, in what was the first such summit between Israeli and Egyptian leaders in more than a decade. The premier met with UAE Crown Prince Sheikh Mohammed bin Zayed Al Nahyan in December, when he made the first-ever visit by an Israeli prime minister to the Gulf country.
Bin Zayed also landed in Sharm el-Sheikh Monday, days after hosting Syrian President Bashar Assad — a move harshly condemned by the Biden administration, which has thus far resisted joining efforts by a growing number of Mideast leaders to normalize the dictator.
Read More: Times of Israel