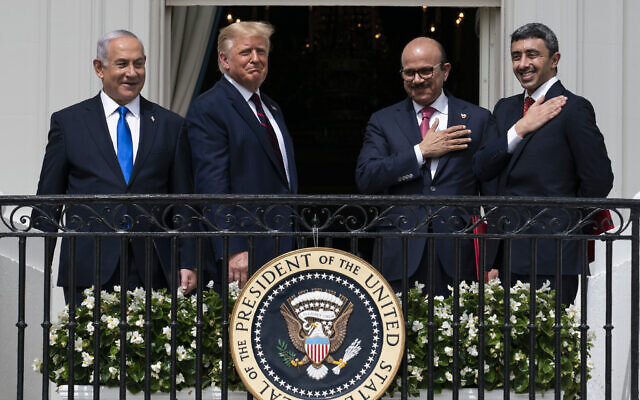 In The News
Bennett cheers 'groundbreaking' Abraham Accords on 1-year anniversary
Prime Minister Naftali Bennett on Friday marked the one-year anniversary of the Abraham Accords by hailing the "groundbreaking" agreements that saw Israel normalize ties with the United Arab Emirates, Bahrain and Morocco.
Bennett, who had not publicly commented on the accords since becoming prime minister, praised the "new and groundbreaking chapter in the history of peace in the Middle East," established under his predecessor Benjamin Netanyahu and the previous US administration led by Donald Trump.
"The State of Israel will continue to develop, deepen and expand relations between the countries, as well as work to develop relations with other countries in the region," promised Bennett, in a statement that did not name Netanyahu.
"I would like to thank the leadership of the UAE and of Bahrain for the courage and the daring that enabled the establishment of diplomatic relations, and the American administration which tirelessly led, supported and mediated the success of this achievement," Bennett added. "Relations between the countries are only at their beginning and are already bearing [much] fruit."
When the Israel-UAE breakthrough was announced in August 2020, Bennett, then in the opposition, praised it, but also went on to claim that Netanyahu had "missed a once-in-a-century opportunity" to annex large parts of the West Bank. "It is tragic that Netanyahu did not grasp the moment, nor did he muster the courage to apply sovereignty to even an inch of the Land of Israel," Bennett said at the time.
Read More: Times of Israel