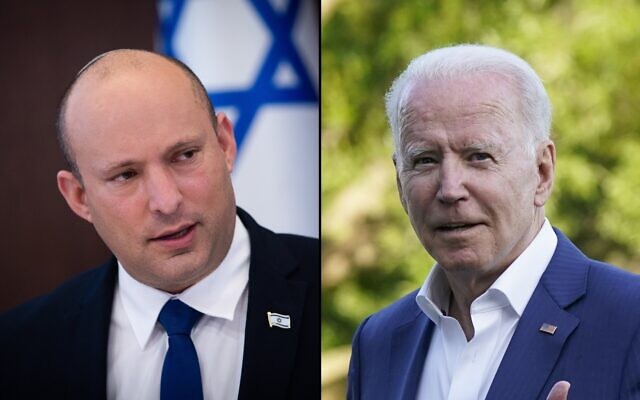 Bennett aides to travel to DC for meetings with Biden staff ahead of PM's visit
Senior aides to Prime Minister Naftali Bennett will fly to Washington next week for meetings with their American counterparts in preparation for the premier's visit to DC, an official in the Prime Minister's Office confirmed to The Times of Israel Monday.
National Security Council chairman Eyal Hulata and Bennett's diplomatic adviser Shimrit Meir will meet with White House National Security Adviser Jake Sullivan and NSC Middle East and North Africa coordinator Brett McGurk, the official said, corroborating an earlier Axios report.
The trip will see the first in-person meetings between aides to the two countries' leaders. Contacts have so far been held virtually. US Deputy Assistant Secretary of State for Israeli and Palestinian Affairs Hady Amr was in the region earlier this month, but was only reported to have met with several ministers and not Bennett.
Last month US President Joe Biden extended an invitation for Bennett to visit the White House. The offer was relayed to then-president Reuven Rivlin during a visit, with the latter saying Biden wanted his first meeting with Bennett to take place "as soon as possible." But the premier will have a hard time leaving the country until the Knesset begins its summer recess on August 8, given the coalition's razor-thin 61-59 majority in parliament. Flying in August would complicate meetings on Capitol Hill though, as the US Congress will also be in recess that month.
Read More: Times of Israel