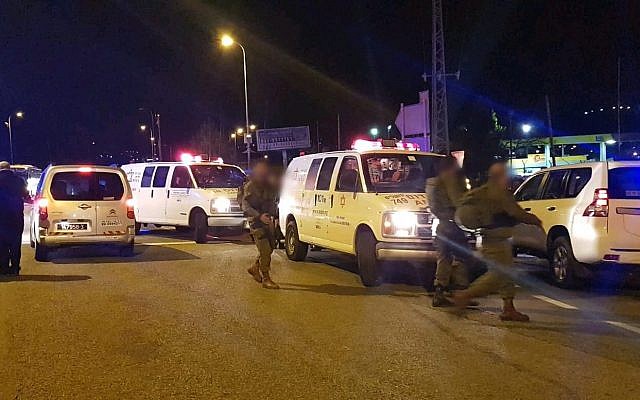 Hamas
Baby dies after emergency delivery following Ofra terror attack
A baby delivered prematurely after his mother was shot in a terror attack this week has died, the hospital where he was being treated said Wednesday.
"With great sorrow we announce the death of Shira and Amichai's newborn four days after the attack despite the efforts of doctors at the neonatal intensive care unit to save him," a spokesperson for Shaare Zedek Medical Center in Jerusalem said, referring to the baby's parents.
A funeral for the baby will be held at 9:45 p.m. at the Mount of Olives cemetery in Jerusalem.
Shira Ish-Ran was seriously wounded in the attack Sunday, when terrorists in a passing car opened fire at Israeli civilians waiting at a bus stop and hitchhiking post outside the settlement of Ofra. Seven people were injured in all, including Ish-Ran's husband, Amichai, who was moderately hurt.
Ish-Ran had been 30 weeks pregnant at the time of the attack. The baby's delivery in an emergency C-section after the attack had initially been seen as a "miracle," but doctors said his condition quickly deteriorated and they had been fighting since early Monday to save him.
The baby had been hooked up to a ventilator and had been undergoing treatment in the neonatal intensive care unit.
Ish-Ran had been allowed to see her baby for the first time only on Wednesday morning, her father Chaim Silberstein said.
On Wednesday morning, doctors at Shaare Zedek said Ish-Ran's condition had stabilized, but said the baby remained in critical condition.
On Tuesday evening Amichai Ish-Ran, who has Canadian citizenship, entered his wife's hospital room and saw her conscious for the first time since she awoke from her induced coma.
The military's search for the perpetrators of the attack entered its fourth day on Wednesday, with troops setting up roadblocks and carrying out sweeps in Palestinian villages near Ramallah.
Education Minister Naftali Bennett called for a tough response following the death of the newborn.
"A Jewish baby that still hadn't been named was murdered… his short life was a struggle for his life," Bennett, who heads the pro-settlement Jewish Home party, wrote on Twitter. "This is a despicable murder by terrorists who have stopped fearing us. We must restore the lost deterrence; otherwise a wave of murders is on the way," he added.
Echoing Bennett, Social Equality Minister Gila Gamliel vowed Israel would "exact a price from the scum" behind the attack.
Read More: Times of Israel