Anti Semitism
Authorities are investigating desecration of 300-year-old Jewish cemetery near London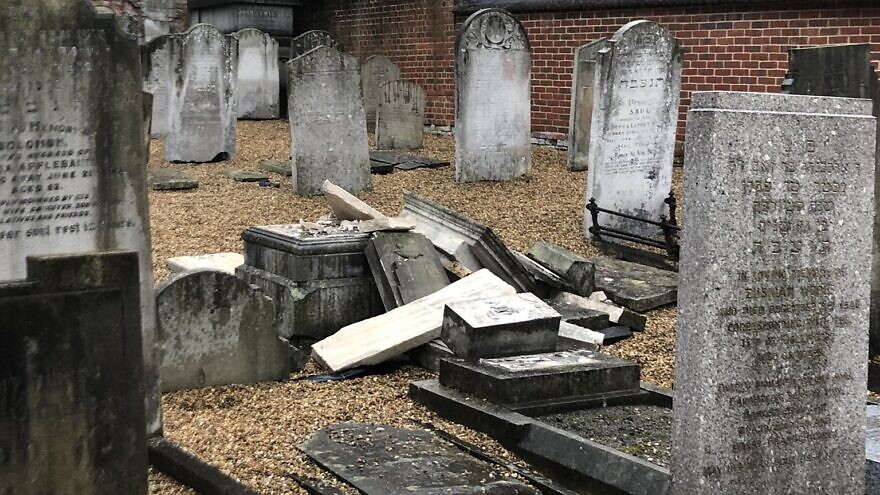 The vandalism is believed to have taken place on Rosh Hashanah.
(October 24, 2019 / JNS) Authorities are investigating the desecration of a 300-year-old Jewish cemetery near London, reported the United Kingdom's Jewish Chronicle.
Assailants reportedly used sledgehammers to shatter, upend and split headstones at the Chatham Memorial Synagogue cemetery. The damage was discovered hours before Yom Kippur started on Oct. 8, though it is believed that the vandalism took place on Sept. 30, the night of Rosh Hashanah
"It's the most important time of the year for self-reflection and saying sorry. To have something like this happen at that time is quite appalling," said Dalia Halpern-Matthews, chair of trustees at the synagogue, according to the Daily Mail.
She added that the gate to the cemetery, which was bolted to the wall, was also ripped off, despite it already being open.
"It was damage for damage's sake," she explained. "It's difficult to describe the sense of horror at the disrespect and needless violence."
According to chief inspector Ian Dyball, the local Kent Police district commander, an investigation into the vandalism is "ongoing and a number of inquiries have been carried out including reviewing CCTV in the area. We are also working with those responsible for the cemetery and offering crime-prevention advice."
Marie van der Zyl, president of the Board of Deputies, said "this disgraceful anti-Semitic vandalism will cause huge upset to the families of those buried in the cemetery and to all right-thinking people. The low lives who perpetrated this hateful attack should face the full force of the law."
Read more: Jewish News Syndicate