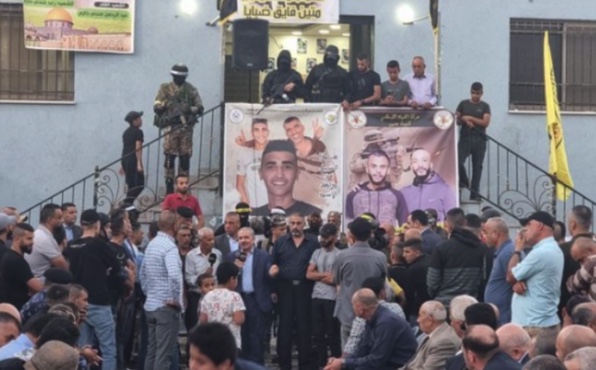 In The News
At Jenin gunmen mourning tent, Palestinian Authority PM speaks of 'martyrs, victims'
Palestinian Authority Prime Minister Mohammed Shtayyeh on Sunday visited a mourning tent for Palestinian gunmen killed while confronting Israeli troops in the Jenin refugee camp in the West Bank.
In a photo published online, Shtayyeh was seen standing alongside masked gunmen wearing insignia affiliated with different terror groups, including Palestinian Islamic Jihad.
The photo also shows Fathi Hazem, the father of a terrorist who carried out a deadly shooting attack in Tel Aviv in April, standing next to the Palestinian prime minister.
"From this camp of victims, the Jenin refugee camp, we state that the blood of martyrs and the darkness of the jail cells that our prisoners are forced to endure will not be in vain," Shtayyeh said during his visit.
"This struggle is an ongoing process, from generation to generation, victims to victims. Jenin has created national unity on the ground," the Palestinian leader said.
Read More: Times of Israel