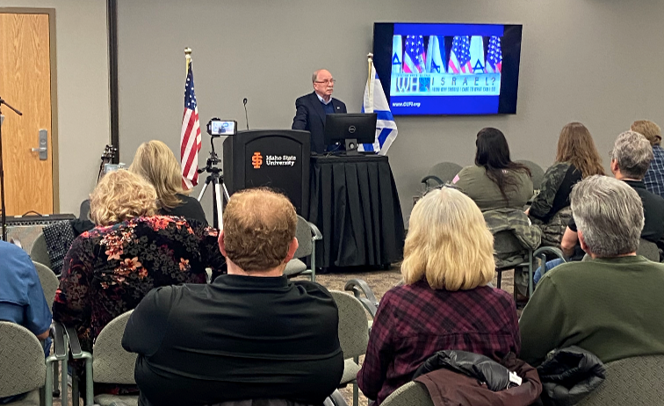 Event Recaps
April 19 – Pastor Meeting & Why Israel? – Pocatello, ID
We had an outstanding connection in E. Idaho at Pocatello with 15 pastors for a lunch this past Tuesday. This is a HUGE breakthrough.  The amount of lethargy has been significant.  Under the leadership of our City Director, Paul Guisande, he and his wife Dorothy have been plowing ground, planting and watering, and here is some of the fantastic harvest. These pastors were so responsive and they were very engaged.  I believe we have some tremendous candidates for a CUFI Israel trip.  I'm really looking forward to following up with each of them.
We held a "Why Israel" event on the campus of Idaho State University on Tuesday evening.  Once again, the evening was such an outstanding time.  Our CUFI on Campus team did a superb job.  This is a newer chapter.  I so appreciated the chance to encourage them and appreciate their work. The sponsoring Professor, who is an outstanding guy, attended the event, learned much and was deeply impacted.  This is not an easy arena to work in, but the team is determined to keep moving forward and they were encouraged by the evening. The event was well attended – (Pics) and the receptivity to the presentation was no small thing.  They amount of things that the people learned, the interest it created, and the chance to really introduce people to CUFI who have never known about this amazing movement – They loved it.
There was 11 people who signed up for the Israel course that begins in May! I believe we closed out this amazing day putting a big, toothy grin on God's face.  He blessed the entire day.  We have a true breakthrough in E. Idaho.  I believe we gained some much needed ground.  I'm excited to see what the future holds.