Israel Defense Force (IDF)
Anti-Israel protesters shout down, resort to violence at York University IDF reservist event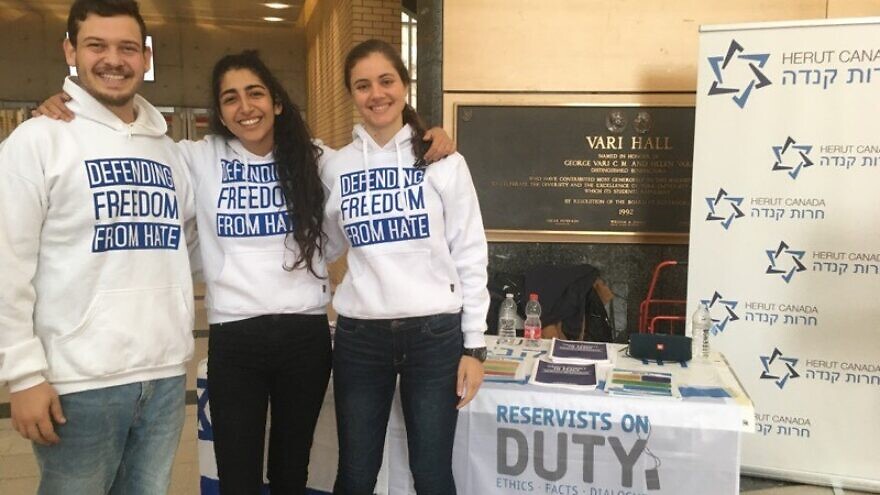 (November 21, 2019 / JNS) An anti-Israel group at York University in Toronto, Canada, disrupted a Wednesday-night event organized by Jewish students that featured talks by reservists from the Israel Defense Forces, who came to speak about their experiences in the army and offer information about Israel.
Their visit sparked a "no killers on campus" campaign organized by anti-Israel student groups.
Fliers protesting the event covered the walls of the campus, portraying a Photoshopped image of an IDF soldier who appears to be strangling a child.
Anti-Israel groups had vowed to disrupt the event and had prior to it circulated a number of chants students could use to derail the event, such as "From Toronto to Gaza, Globalize the Intifada!"
In a letter written beforehand to York University president Rhonda Lenton and vice provost of students Lucy Fromowitz, the Friends of the Simon Wiesenthal Center (FSWC) organization urged that the university take action to ensure that the event go forward without disruption, and that the university take a firm stand against the anti-Semitic tropes being propagated by anti-Israel student groups on campus.
"Israeli soldiers serve a democratic state that is the most humane in its conduct and method than any state on earth," wrote FSWC president and CEO Avi Benlolo in a statement. "The allowance of this type of antisemitic behaviour on campus has already made York University an inhospitable place for Jewish students, and it is time for the administration to stand up to the hatred."
However, a fight broke outside of the event between Jewish and pro-Palestinian students, who chanted "Free, free, Palestine" and "Viva, Viva Intifada!"
Nonetheless, "police and campus security were on scene to quickly end the assault and send away the violent protests to avoid any serious injury," reported The Post Millennial.
In a statement on Thursday, FSWC said, "The community has to take urgent and immediate action to provide security for Jewish students in addition to removing hate groups like Students Against Israeli Apartheid and reforming the administration and the student federation to enable the university to ensure a welcoming environment to Jewish students."
York University condemned the violence.
"I want to emphasize in the strongest possible terms that acts of violence are not tolerated on our campuses and York University has zero tolerance for hate," said Lenton in a statement on Thursday. "There is simply no place for it in our community. Together with York's faculty, staff and students, I am deeply disappointed by the behavior that was on display last night."
"In democratic societies, universities play a central role in facilitating debate on difficult issues. Shouting, threats of violence and attempts to intimidate community members are not consistent with the responsibilities we all share," she continued. "The fact that external groups were on campus last night for the sole purpose of fomenting conflict should be especially disturbing to everyone at York."
On Tuesday, the IDF reservists had sat at a table in York's Vari Hall with sweatshirts that read "Defending Freedom From Hate," inviting students to approach them with questions about Israel and its army.
According to FSWC, some students approached the table with genuine curiosity in hearing about Israel's security challenges.
"What is BDS?" asked one student. "Why is Israel fighting Gaza?" asked another.
The soldiers engaged with student questions, armed with pamphlets, information and chocolates. Other students approached the soldiers with insults and swear words. "Baby killer!" one student shouted at a soldier. The soldier offered him a chocolate and asked if he wanted to sit down and talk, but the student refused.