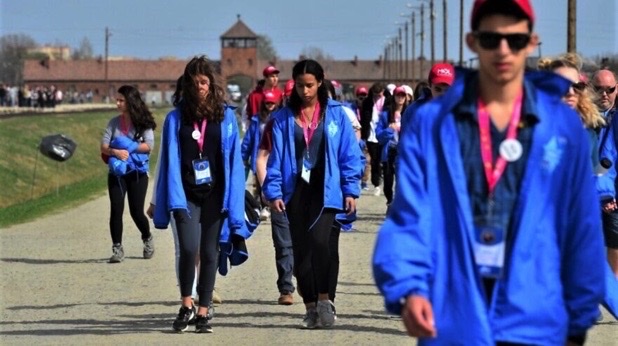 In The News
Annual Holocaust march faces major challenge as survivors pass away
The International March of the Living will take place in Poland on April 28 following a two-year hiatus due to COVID-19. While organizers are pleased to put the pandemic behind them, they say they are now facing a much greater challenge.
"The reality is that the generation of the Holocaust survivors is fading," Shmuel Rosenman, chairman of the organization and one of the event's founders, told JNS.
The International March of the Living conducts educational events year-round aimed at combating anti-Semitism. Its flagship event, however, is a week-long educational trip in Poland that culminates in a 1.9 mile walk from the concentration camp at Auschwitz to the extermination camp at Birkenau, symbolizing the death marches that took place there in 1945. The march, which falls yearly on Israel's Yom HaShoah, or Holocaust Martyrs' and Heroes' Remembrance Day, relies on the participation of actual survivors to help preserve the memory of the Holocaust's 6 million Jewish victims.
"It is our job to ensure that their voice and their memory never dies out," Rosenman stressed, noting the issue had been thrown into sharp relief this year, "when we have just eight survivors able to lead the March of the Living."
Read More: JNS