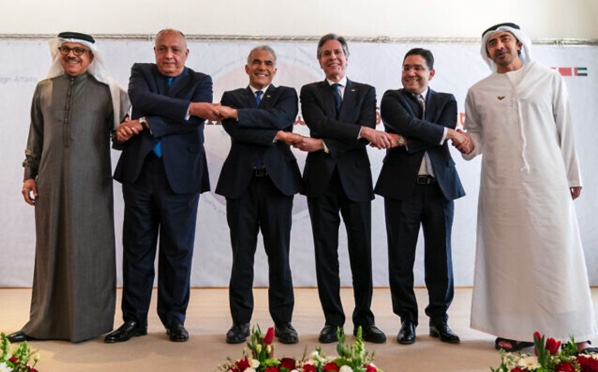 In The News
Announcing permanent regional forum, Israel, Arab states laud alliance, decry terror
At their historic summit in the Israeli Negev town of Sde Boker on Monday, the top diplomats of Israel, the US and four Arab nations announced that the conference would be the first iteration of a permanent regional forum, as they reaffirmed the importance of growing ties between Israel and the broader Middle East.
The foreign ministers of Israel, Egypt, Bahrain, Morocco, and the United Arab Emirates and the US secretary of state all condemned terrorism, a day after an attack in the city of Hadera in which two Border Police officers were shot dead.
The unprecedented gathering was widely seen as an attempt by Israel and its Arab allies to create a front against shared regional foe Iran. Israeli officials told reporters on the scene that the talks centered around creating a "regional security architecture," among other issues.
At a joint press conference of all six diplomats following the meetings, Foreign Minister Yair Lapid told reporters that the so-called Negev Summit would become "a permanent forum."
He said the confab was building "a new regional architecture based on progress, technology, religious tolerance, security and intelligence cooperation.
"This new architecture, the shared capabilities we are building, intimidates and deters our common enemies – first and foremost Iran and its proxies," he said.
Read More: Times of Israel