Israeli Society
Ancient tomb door with stunning menorah carving revealed in Israel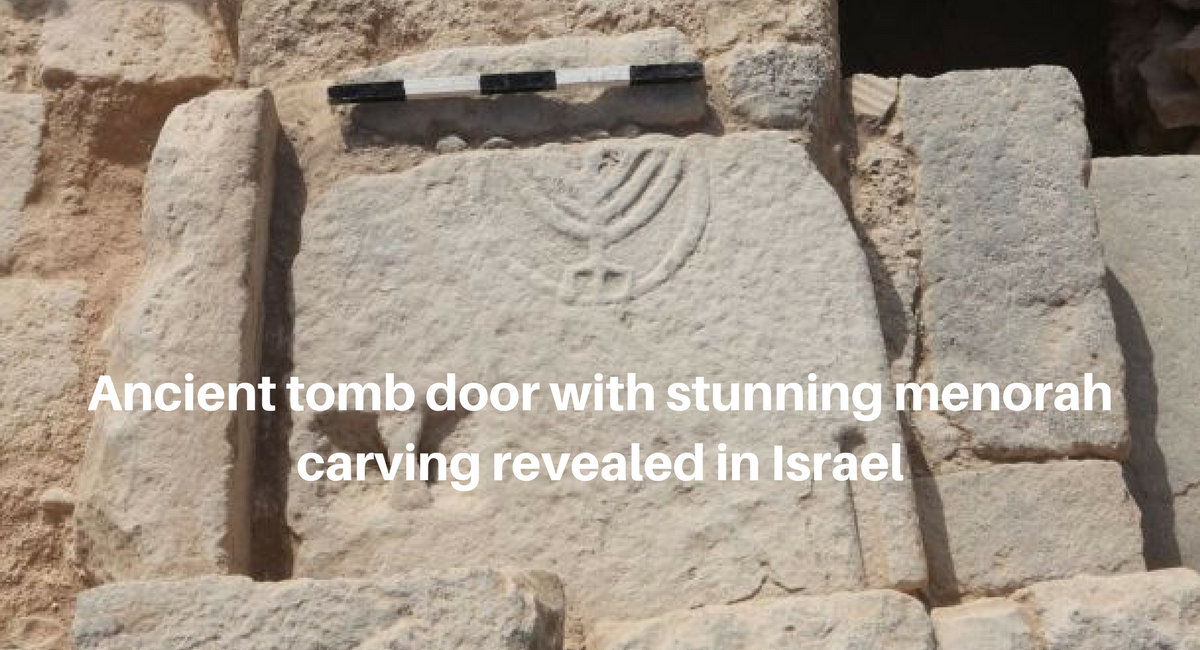 As the Jewish holiday of Hanukkah comes to a close, the discovery of an ancient tomb door with a stunning menorah carving is providing a fascinating glimpse into Israel's rich history.
The basalt tomb door, which is undergoing preservation work, was recently put on display by the Institute of Archaeology at Hebrew University, in Jerusalem.
The door was discovered in Tiberias in Israel's Galilee region in 2010 by archaeologists from the University, but was only revealed to the public a few weeks ago, said Dr. Katia Cytryn-Silverman, senior lecturer at Hebrew University's Institute of Archaeology and Department of Islamic and Middle East Studies.
Cytryn-Silverman, who leads the ongoing Tiberias excavation project, explained that the door attracted plenty of attention when it went on display.
"As this happened toward the Jewish Holiday of Hanukkah ─ which celebrates the liberation and the rededication of the Second Temple by the Maccabeans (second century BCE) and the miracle of the lasting oil, which burned in the Temple's menorah for eight days ─ we decided to bring the finding to public knowledge, as a good wish for Hannukah and for the Holiday Season," she told Fox News, via email.
The tomb door is ornamented with a depiction of the seven-branched menorah that stood in the ancient Jewish Temple, one of the key symbols of Judaism. (A nine-branched menorah is lit to celebrate Hanukkah, which this year started on Dec. 12 and will end on Dec. 20.)
The artifact also serves as a reminder of Israel's multicultural heritage, Cytryn-Silverman said.
Likely part of a Jewish tomb from the second to fourth centuries, the door was discovered during the excavation of a former mosque and sugar works dating back to the seventh century.
"We found that the top step of a stairway leading to a small room was actually a portion of a basalt Jewish-tomb door," Cytryn-Silverman explained.
"Such tomb doors, probably originating from the Jewish cemetery to the north of the classical city [of Tiberias], had already been brought to this area during the early eighth century, when the Umayyads transformed the simple mosque of the seventh century into a monumental mosque," Cytryn-Silverman explained.
The slab was used as the base for a pillar within the mosque, she added.
At its height, in the eighth century, the Umayyad Caliphate stretched across a vast swathe of the Middle East, North Africa and Spain.
The tomb door's colorful history, however, did not end there. The mosque was destroyed by an earthquake in 1068 and subsequently abandoned. But then, during the Crusader era, the site became part of a complex devoted to sugar production.
Cytryn-Silverman cites a twelfth-century sugar delivery request from Knights Hospitaller in Jerusalem to their facilities in Tiberias and Mount Pelerin, Lebanon.
The site's use ended when the building collapsed at the start of the thirteenth century.
Read More: Fox News