Israeli Society
Ancient Hebrew Seals From Judean Kingdom Unearthed in Jerusalem Excavations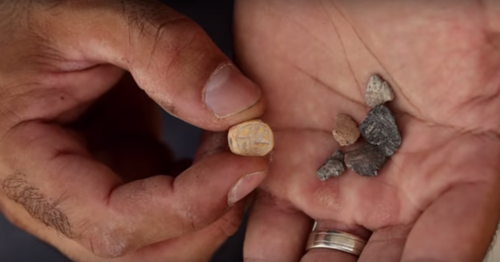 A collection of First Temple-period seals has been discovered during excavations in Jerusalem's City of David.
Several of the seals are emblazoned with Hebrew inscriptions, and dozens of the ancient seals reference the names of officials from the Judean kingdom who lived before the Babylonian destruction of Jerusalem, including "Pinchas" and "Achiav ben Menachem."
The seals, which are small pieces of clay used to close letters, were well-preserved due the raging fires ignited in the holy city by the invading armies of Babylon thousands of years ago.
The findings were discovered during excavations overseen by the Israel Antiquities Authority (IAA) in the City of David National Park. The excavations were funded by the Ir David Foundation. The artifacts will be displayed at the City of David's annual archaeology conference this week.
"Through these findings, we learn not only about the developed administrative systems in the city (Jerusalem), but also about the residents and those who served in the civil service," said Ortal Chalaf and Dr. Joe Uziel, excavation directors for the IAA.
Read More: Algemeiner