US-Israel Relationship
Americans' support for Israel among highest ever recorded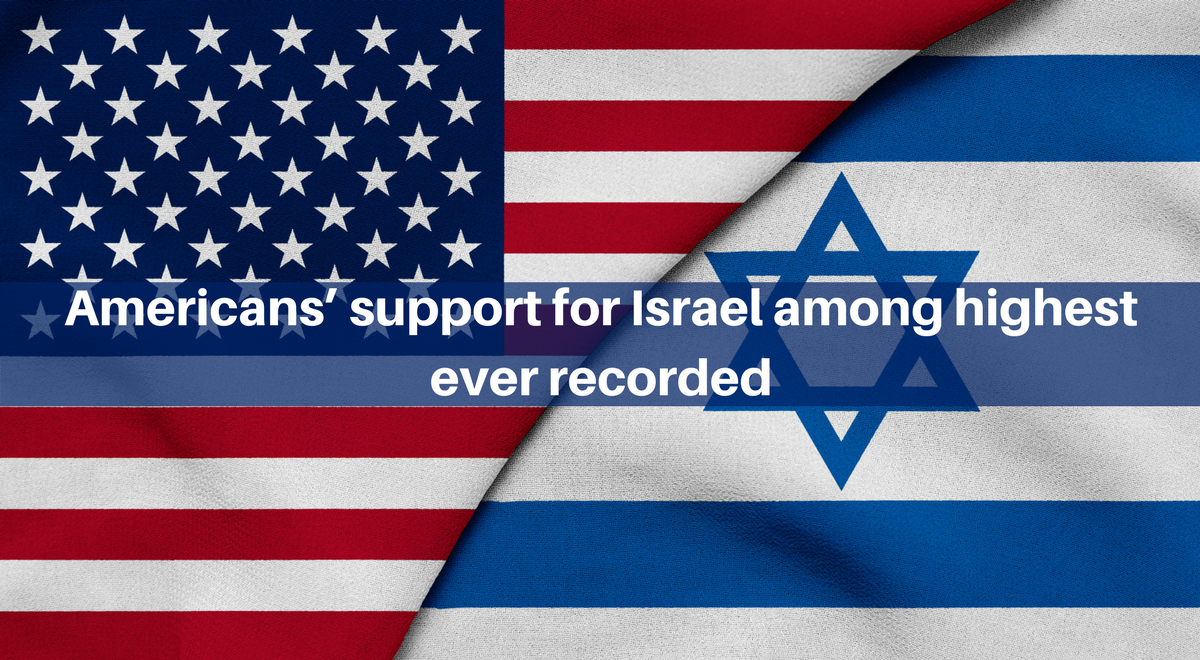 In a study headlined "Americans remain staunchly in Israel's corner," the Gallup company published the findings of a major national poll that found backing for Israel among Americans remains extremely high, with some measures of support matching the highest previously recorded figures.
"Americans' stance on the Israeli-Palestinian conflict is as strongly pro-Israel as at any time in Gallup's three-decade trend," the polling research company said in the report, published Tuesday.
Fully 74 percent of American adults have a favorable view of Israel, while 23% have an unfavorable view. That's the best showing for Israel in 27 years, since 1991's 79% as Israel was battered by Iraqi missiles during the Gulf War.
Yet, the figures varied dramatically depending on political affiliation. Support for Israel is at 83% among Republicans, 72% among independents and 64% among Democrats.
The good news for Israel is a "reverse image" of Americans' opinion of the Palestinian Authority, Gallup said, with 21% saying they have a favorable view of the Palestinian government and 71% reporting an unfavorable one.
The Palestinian Authority does better among Democrats, at 27%, than among independents (21%) or Republicans (12%).
It's not all bad news for the PA, however: "This is the second consecutive year its favorable rating has been above 20%, after six years of readings below that level," Gallup said.
As with other polls, the Gallup study found age was also a factor, with younger adults favoring Israel less than older ones, but still by a two-to-one margin. Adults 55 and older favored Israel over the PA by 80% to 18%. At ages 35-54, that shrank to 72% to 15%. At 18-34, support for Israel is at 65%, while support for the PA jumps to 31%.
The study measured not just support for Israel or the PA generally, but asked where Americans' sympathies lay in the context of the Israeli-Palestinian conflict.
Nearly two-thirds of Americans, or 64%, say they are more sympathetic toward the Israelis than the Palestinians — "tying the high previously recorded in 2013 and 1991," Gallup noted.
Backing for Palestinians is at 19%, a six-year high as well, equal to 2012's survey results. The figure ranks "among the highest percentages favoring the Arab side of the conflict" since 1988, when Gallup measured 15% sympathizing more with the Palestinians than the Israelis.
Gallup also found that Americans seem to be taking sides in the conflict as never before, with fewer than ever, just 16%, responding with "both," "neither" or "unsure." That's down from 23% in 2013.
Read More: Times of Israel