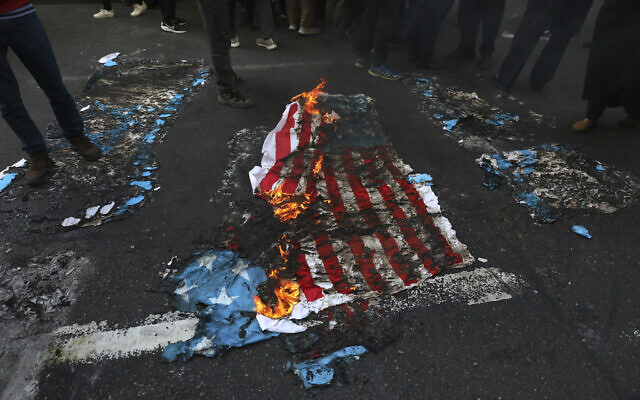 In The News
American, Israeli flags burned as Iran marks 1979 takeover of US Embassy
Thousands of Iranians gathered on Tehran streets Thursday for the anniversary of the 1979 seizure of the US Embassy, chanting "Death to America" and "Death to Israel," and burning American and Israeli flags. The embassy takeover triggered a 444-day hostage crisis and break in diplomatic relations that continues to this day.
The government-organized commemoration, long a venue for voicing anti-Western sentiment, typically draws angry crowds each year. Last year, authorities canceled the event due to the still-raging coronavirus pandemic but on Thursday, state TV said that 800 cities across Iran staged demonstrations.
Gen. Hossein Salami, chief of the paramilitary Revolutionary Guard, denounced in a lengthy speech to the crowds what he described as American aggression in the region over the past decades, declaring that the "children of this nation will stand bravely against any power that wants to damage their interests."
Long-simmering tensions between the United States and Iran have flared again in recent months after Iran's election of ultraconservative President Ebrahim Raisi, which brought hard-liners to power across every branch of government and stalled Tehran's negotiations with world powers to revive its now-tattered 2015 nuclear deal.
Read More: The Times of Israel