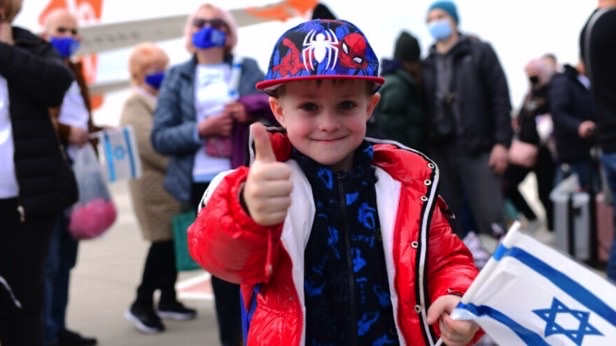 In The News
Ahead of Israel's 74th birthday, immigration smashes 20-year record
Some 38,000 new immigrants will celebrate their first Independence Day as Israeli citizens this year, according to figures released by the Jewish Agency on Sunday. The figure marks a two-decade immigration record.
The data also shows that immigration was driven higher by the war in Ukraine, where the Jewish Agency, in cooperation with the International Fellowship of Christians and Jews (IFCJ), helped rescue thousands of Jewish refugees. Upon arrival in Israel, the Aliyah and Integration Ministry housed the immigrants in hotels throughout the country.
Meanwhile, many more immigrants from all corners of the globe flocked to Israel in the shadow of the global pandemic.
Between May 2021 and now, about half of the immigrants arrived from Ukraine and Russia, 4,000 came from the United States, 3,700 from France, 1,000 from Belarus, 1,000 from Argentina, 700 from Great Britain, 600 from South Africa, 500 from Brazil, 400 from Canada, and others from Australia, Germany, Belgium, Chile and Italy, among other countries.
In addition, more immigrants from Ethiopia arrived via "Operation Tzur Israel," which is due to resume soon as per an agreement between the Jewish Agency and the Aliyah Ministry.
Read More: JNS