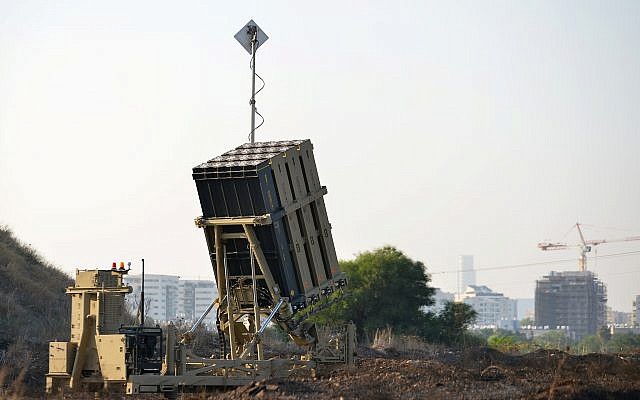 Syria
After Syria threatens Ben Gurion Airport, Iron Dome deployed in greater Tel Aviv
The Israeli military deployed Iron Dome missile defense systems in central and southern Israel in recent days, amid escalating tensions both in Syria and in the Gaza Strip.
A battery was deployed in the Tel Aviv metropolitan area, and others were positioned in the south, the army said Thursday.
In addition, a small number of reservists from air defense units were called up to staff the batteries, as typically occurs amid periods of heightened tensions, according to the Israel Defense Forces.
The past week has seen an increase in violence as well as verbal threats from both Israel's north and the south. The announcement of the deployment came a day before thousands of Gazans were expected to again amass along the security fence for riots and clashes with Israeli troops.
On Wednesday night, shots were fired by unknown assailants at Israeli soldiers stationed along the Syrian border, the Israel Defense Forces said Thursday. The troops returned fire. There were no Israeli casualties.
On Tuesday, Syria's envoy to the United Nations threatened that Damascus could attack Ben Gurion International Airport outside Tel Aviv if the world body did not halt Israeli strikes on his country like those conducted on Monday.
An attack on Israel's airport would have significant implications not only on the country's security, but also on its economy and global standing.
Gaza getting hot again
Long-simmering tensions in the Gaza Strip came to the boil on Tuesday afternoon with two shooting attacks on Israeli troops along the border, one of which lightly injured an IDF officer. In response, the military destroyed two Hamas observation posts, killing one fighter and injuring two others. The air force then bombed a Hamas structure in northern Gaza later that night.
Read More: Times of Israel