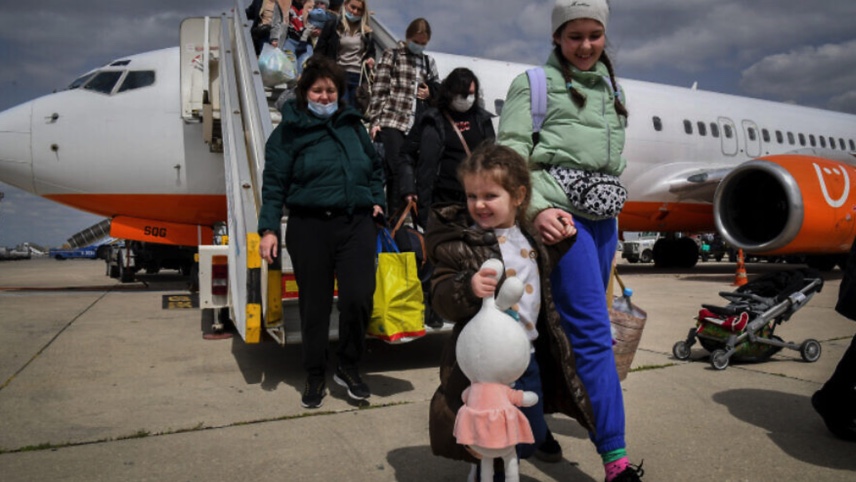 In The News
After slow start, Israel's 'aliyah' machine for Ukraine kicks into gear
The Ukraine war has led to a wave of aliyah from the war-torn country, along with a wave of criticism as organizations managing that immigration came under fire for not working faster. On March 18, the Israeli daily Israel Hayom pointed out that it was easier to enter Israel as a non-Jewish refugee than as a Jewish immigrant. A week later and the situation had reversed—more immigrants than refugees were entering the country, and the organizations handling the situation tell JNS that they have made the necessary adjustments.
At the start of the war, Israelis heard reports of Ukrainian Jews stuck in hotels or at makeshift centers in countries bordering Ukraine. The crux of the problem: aliyah, or immigration to Israel, is normally a process that takes months. Aliyah organizations weren't prepared for the sudden surge in applicants.
"Last year, in 2021, there were approximately 29,000 people who made aliyah from around the world. Right now, around 10,000 have come to Israel just from Ukraine. We anticipate it going up to 15,000. So we're already at half the number [of last year's total]," Dan Elbaum, the Jewish Agency for Israel's head for North America and president and CEO of Jewish Agency International Development (JAID), tells JNS.
To speed up the process, the Jewish Agency—the main address for immigrants seeking to go to Israel—launched its "Aliyah Express" program on March 21. Basic paperwork is done on-site in Europe. Once in Israel, the rest of the immigration process takes place at a more leisurely pace.
The Jewish Agency, which is housing immigrants in four countries—Poland, Hungary, Moldova and Romania—told JNS the program is bearing fruit. A few weeks ago, 5,000 immigrants were waiting in hotels to reach Israel. That number has since dropped to 2,000 with the average wait time reduced to a few days to a week.
Read More: JNS