Hamas
After Obama's Betrayal Of The Jewish State, Christians Gathered in D.C. To Fight Back.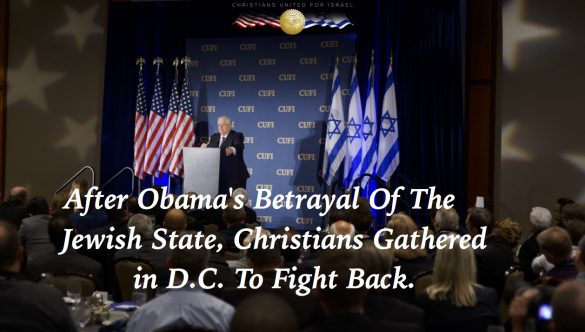 With only a few days' notice, over 250 Christians from across the country placed their lives on hold and answered what many described as a "calling" to come to Washington D.C. and lobby support for Israel.
The "marching orders" came from Pastor John Hagee, chairman of Christians United for Israel. To give his 3.3 million members a more active voice in Washington, CUFI recently launched the CUFI Action Fund. Hagee declared:
Millions of Christian Zionists across the country are incensed at the Obama administration's treatment of Israel, and we will make our voices heard both in the halls of Congress and at the ballot box. The days of appeasing Israel's enemies and undermining the US-Israel alliance are over.
Christian leaders gathered Tuesday evening at the Hyatt Regency Capitol Hill for what Hagee characterized as a "pep rally" before the "big game."
Gary Bauer, CUFI Action Fund Washington Director, offered opening remarks, explaining why everyone was asked to come in for what CUFI describes as a "fly-in."
"We are going to Capitol Hill to deliver a very specific message to both sides of the aisle: Use US leverage to end Israel-bashing at the UN; support moving the American Embassy to Jerusalem; and confirm David Friedman, President-elect Donald Trump's excellent choice to be US Ambassador to Israel," explained Bauer. "The American people stand with the Jewish state, and we expect our leaders in Washington to reflect that position in every relevant vote they cast."
In a show of bipartisan support, attendees received words of gratitude and encouragement from Senators Chris Coons (D-DE) and Lindsey Graham (R-SC).
Coons opened his remarks by thanking CUFI and the Hispanic Israel Leadership Coalition, who also sent representatives to the event. The Delaware Democrat stated he was "certain" the Senate Foreign Relations Committee would adopt a bipartisan resolution "making it clear that UN Security Council Resolution 2334, which undermines direct negotiations between [the Palestinian Authority and Israel], was an unbalanced resolution that should not have passed." Coons went on to criticize the UNSC resolution "for not recognizing the right of the Jewish homeland to exist."
Sen. Graham struck an even harsher tone against the UN, questioning the validity of the U.S. to continue funding the world body, currently receiving over $3 billion a year from American taxpayers.
Israel advocates from 49 states (Vermont being the exception) expressed their enthusiasm with numerous standing ovations for each of the speakers.
Reverend Kaatee Bailey made the journey to Washington from her home in Maui, Hawaii. Bailey credited her love for Israel and the Jewish people for the reason she made the 4800-mile trip on only 48 hours' notice.
"I love Israel, I defend Israel, I would travel around the world to fight and defend Israel and the Jewish people," said Bailey. "I was honored and privileged to be asked to come out here. I am called to defend Israel, it's my life and my passion."
Blair Thoreson, one of nearly 15 activists from North Dakota, also described his attendance as a "calling," stressing that "Israel is a beacon of freedom and hope in a part of the world that has little of both. Efforts to delegitimize Israel is an effort to delegitimize everything that is right in the world."
Read More At: Independent Journal Review