Hamas
After Gaza rocket hits Beersheba, IDF levels an alleged Hamas HQ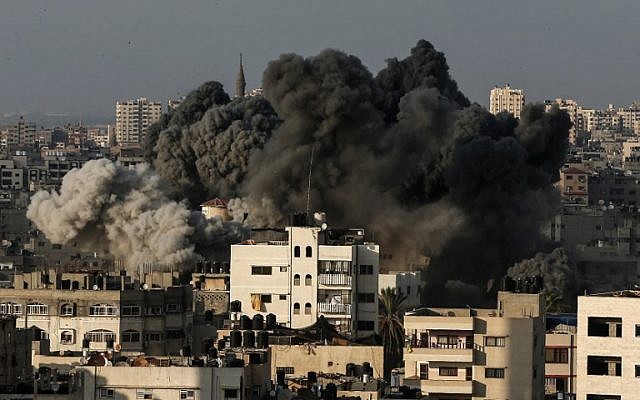 The Israeli Air Force on Thursday evening flattened a five-story building in the northern Gaza Strip that served as a headquarters for the Hamas terrorist group's internal security service, the army said.
The Israel Defense Forces said the strike on the building in the northern Gaza Strip, which also served as a cultural center in the coastal enclave, was in response to "rocket fire by the Hamas terror group against the city of Beersheba earlier in the day."
The military threatened that the attack was "an expression of the IDF's intelligence and operational capabilities, which will expand and intensify as necessary."
Eighteen Palestinians were wounded in the Israeli strike, according to the Hamas-run Gaza health ministry. The degree of their injuries was not immediately known.
The attack on the building was one of the IDF's first strikes on a site deep inside a city in Gaza since the 2014 war. Most of the strikes previously conducted by Israel targeted facilities outside major population centers. In addition, the Rimal neighborhood in which the building was located was one of the nicer areas of Gaza City.
This decision was seen as an attempt by the military to show Hamas that it was prepared to step up its attacks against the terror group if rocket and mortar fire continued to strike southern Israel from the Gaza Strip.
Read More: Times of Israel