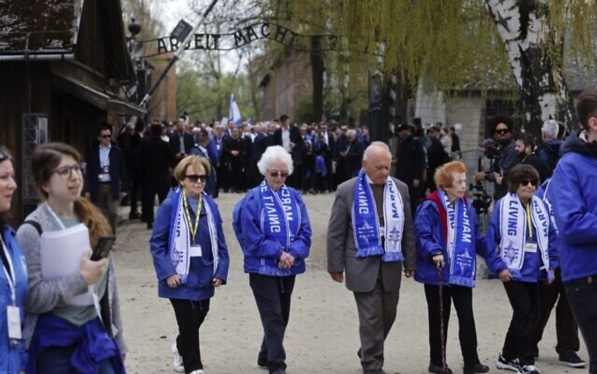 In The News
After 2-year pandemic hiatus, thousands take part in Auschwitz March of the Living
Several thousand people took part Thursday in the 2022 March of the Living at the former Auschwitz-Birkenau death camp in Poland, in one of the world's largest annual Holocaust commemoration events.
The march resumed with a smaller footprint this year after a two-year hiatus due to the COVID-19 pandemic. Participants in past years have numbered in the tens of thousands.
Led by eight Holocaust survivors and Polish President Andrzej Duda, 2,500 Jews and non-Jews from 25 different countries gathered to commemorate the six million Jewish Holocaust victims on Yom Hashoah, or Israel's Holocaust Remembrance Day, and take part in the 3.2-kilometer (two-mile) trek.
The route begins under the Auschwitz gate with the notorious slogan "Arbeit Macht Frei" (German for "Work will set you free") and leads to Birkenau, the largest site of mass extermination during Germany's occupation of Poland and other parts of Europe in World War II.
This year's march took place under the shadow of war in neighboring Ukraine, and a number of Ukrainian refugees were among those in attendance.
Read More: Times of Israel