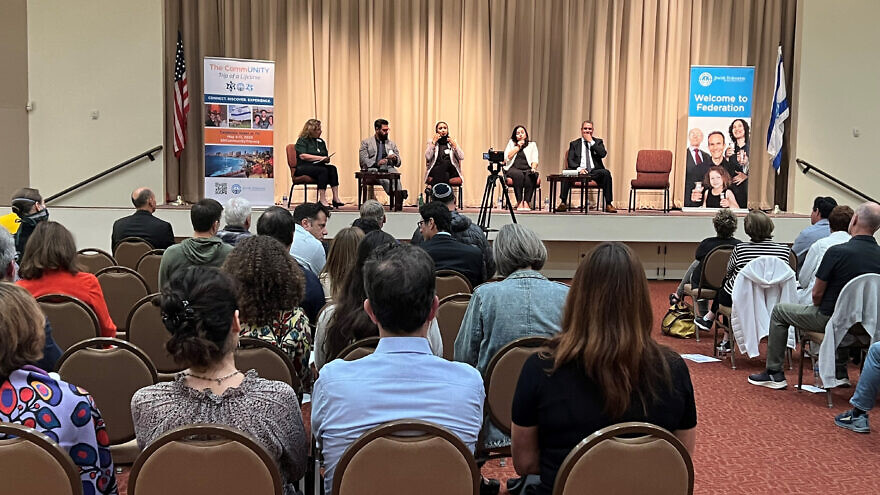 Issues
Abraham Accords-focused NGO plans to combat Jew-hatred with Holocaust education
"If we don't stop anti-Semitism at a certain point, it will spread," said Ahmed Khuzaie, director of U.S. affairs at Sharaka, calling the Shoah "a human story. It's not just about the Jews."
On Oct. 27, the fourth anniversary of the Tree of Life shooting in Pittsburgh, the deadliest anti-Semitic attack in U.S. history, hatred of Jews was a palpably inescapable reality in America—from the Kanye West scandal, to a series of anti-Semitic incidents in Los Angeles, to the discourse surrounding the U.N. Commission of Inquiry.
Yet those in search of a more uplifting message on that same day could find one at Congregation Beth El in La Jolla, Calif., where a delegation from the Sharaka NGO participated in a town hall meeting to articulate their vision of turning people-to-people peace into a reality.\
Sharaka ("Partnership") works to realize the potential of the Abraham Accords by building bonds between young leading voices of Israel, the United Arab Emirates, Bahrain, Sudan and Morocco to strengthen peace, trust and cooperation. In an interview with JNS before the San Diego-area event, Sharaka representatives shared the NGO's plan to launch a Holocaust education program in 2023.
Read more: JNS