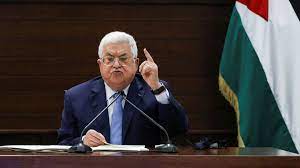 In The News
Abbas consoles families of terrorist "heroes," proud of "the Martyrs of Palestine"
Intent on assuring that Palestinians know he continues to support terrorists, PA Chairman Abbas made some propaganda phone calls to parents of recently killed terrorist "Martyrs" and had them broadcast to the entire Palestinian public on official PA TV News.
Following the death of two terrorists – one a stabber, the second an Islamic Jihad shooter – Abbas called to console their fathers. Abbas expressed his pride in the dead terrorists, calling them "heroes" and "Martyrs of Palestine," thereby stressing the PA's ideology that death for "Palestine" is honorable and heroic.
Abbas' condolence call to father of Israa Khzaimiah – a 30-year-old female terrorist who attempted to stab Israeli security officers near Jerusalem's Old City on Sept. 30, 2021.
Read More: PMW