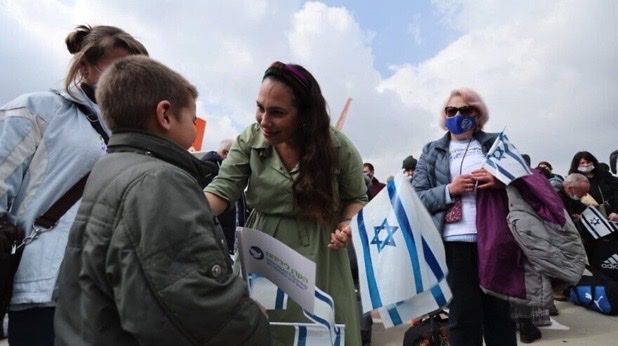 In The News
75 new immigrants arrive in Israel from war-torn Ukraine
"Everyone is just talking about the war," said Yana Koblenko from Ukraine, who arrived in Israel on Sunday with a plane of 74 other new immigrants. "Until the last minute, I was worried the flight would be canceled."
The Koblenko family—Yana, her husband Yevgeny and their young daughter—had been longing to come to Israel for some time. The rest of Yana's family, including her parents, had made aliyah just before the pandemic.
"It's scary in Ukraine right now," Yana said as she arrived at Ben-Gurion International Airport. "We are very happy to have the opportunity to live in Israel."
The aliyah flight was brought to Israel through the joint efforts of the International Fellowship of Christians and Jews, Israel's Immigration and Absorption Ministry and the Jewish Agency for Israel. The effort was funded by the Fellowship, which raises money primarily from Christian supporters of Israel from around the world.
"The arrival of the immigrants to Israel is the essence of Zionism," said Fellowship president Yael Eckstein.
Read More: JNS