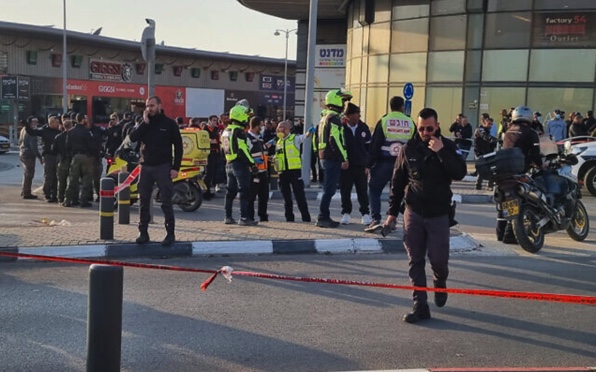 In The News
4 killed, 2 wounded in stabbing attack at Beersheba mall; terrorist shot dead
Four Israelis were killed and two others wounded Tuesday in a ramming and stabbing attack at an outdoor shopping mall in Beersheba officials said, in Israel's deadliest terror attack in years.
According to police, the assailant first stabbed a woman to death at a gas station in the southern city. He then entered his car and rammed a cyclist, before getting out again and stabbing several people at the BIG shopping center.
The terrorist was confronted by an armed bus driver, who attempted to get him to lower his weapon, footage from the scene showed. The attacker lunged at the driver, who shot him alongside a second armed Israeli civilian. First responders reported that the stabber died from the gunshot wounds.
Police commissioner Kobi Shabtai said the entire incident lasted eight minutes, with police officers arriving at the scene four minutes after being alerted. "Citizens displayed resourcefulness and killed the terrorist in the initial minutes," he said.
Magen David Adom medics reported that a 40-year-old Israeli woman died on the scene after being stabbed. Five other victims of the attack were rushed to Soroka Medical Center, where the cyclist and two of the stabbing victims died of their wounds.
Palestinian media identified the stabber as 34-year-old Mohammad Ghaleb Abu al-Qi'an, a terror convict from the Bedouin town of Hura in the Negev. Abu al-Qi'an, who died of his wounds on the scene, had served four years in prison for plotting to join the fundamentalist Islamic State terror group in Syria. He was released in 2019. Shabtai said he likely acted alone in Tuesday's attack.
Read More: Times of Israel