Israel Defense Force (IDF)
2 more Israelis killed by Gaza fire; IDF assassinates Hamas moneyman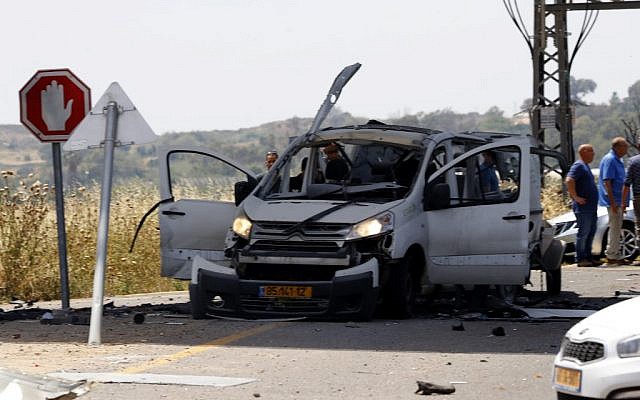 Terror groups in the Gaza Strip on Sunday intensified their attacks on Israel, killing two more people and injuring several others with large rocket barrages aimed at the country's south, a number of longer-range projectiles fired toward central Israel, and one anti-tank guided missile strike on a car near the Gaza border.
From Saturday, some 600 rockets and mortar shells were fired from Gaza at Israel, with about two-thirds of the projectiles striking empty fields, according to the Israel Defense Forces.
The latest fatalities — in addition to the man killed in a predawn rocket attack on Ashkelon — raised the total Israeli death toll for Sunday to three, making it Israel's heaviest losses from Gaza since the 2014 war. The two victims were not immediately identified.
As of Sunday afternoon, 14 people in Israel were injured by shrapnel of rockets, missiles and mortar shells from the Gaza Strip, including three seriously injured, two moderately injured and six lightly wounded, according to the Magen David Adom ambulance service. Twelve people were also lightly injured running to bomb shelters, while 66 people received medical treatment after suffering anxiety attacks from the strikes.
In response to the rocket attacks, the Israeli Air Force on Sunday bombed a vehicle in Gaza City carrying a Hamas field commander who was responsible for funneling money from Iran to Gaza terror groups, killing him and wounding three others. The army also targeted dozens of sites connected to terrorist organizations throughout the Strip, including the homes of many terrorist leaders that the military said were used as weapons caches.
Read More: Times of Israel