US-Israel Relationship
16 years on, US and Israel mourn 9/11 attacks, laud anti-terror alliance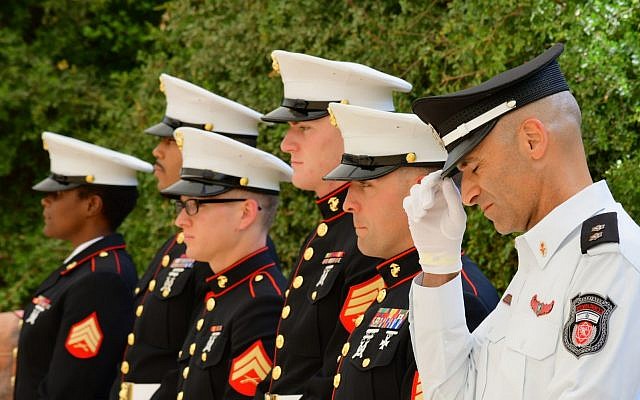 Holding photos and reading names of loved ones lost 16 years ago, 9/11 victims' relatives and others marked the anniversary of the attacks at Ground Zero on Monday with a solemn and personal ceremony.
In Israel, an estimated 500 people gathered at the KKL-JNF Jewish National Fund's "Living Memorial" in the Jerusalem Hills at the US Embassy's official memorial ceremony for the attacks of September 11, 2001, which took 2,977 lives, including those of five Israelis.
The victims died when hijacked planes slammed into the trade center, the Pentagon and a field near Shanksville, Pennsylvania, hurling America into a new consciousness of the threat of global terrorism.
Speaking at the 9/11 Living Memorial Plaza in the Arazim Valley outside Jerusalem, US ambassador to Israel David Friedman lauded the strong friendship between US and Israel.
"Israel and the United States will always stand together and fight for the total defeat of radical Islamic terrorism," Friedman said.
"In the 16 years following the disaster in the US, Israel and its allies have strengthened and flourished, while terrorist organizations such as ISIS, Al-Qaeda and Hamas continue to weaken," said Friedman.
Israel "mourned for America" in the wake of the attacks, he added, noting that the Jewish state was the only country other than the US to erect a memorial with all of the victims' names.
Knesset opposition leader Isaac Herzog also attended the ceremony, along with other Israeli officials. Iowa Governor Kim Reynolds, in Israel on a visit, attended as well.
"9/11 was not only an attack on the US, but on democracy and freedom. Israel and the US are bound forever by these basic values," Herzog said.
In New York, about a thousand 9/11 family members, survivors, rescuers and officials were gathered as the ceremony at the World Trade Center began with a moment of silence and tolling bells.
Then, relatives began reading out the names of the nearly 3,000 people killed in the deadliest terror attack on American soil.
Read More: Times of Israel