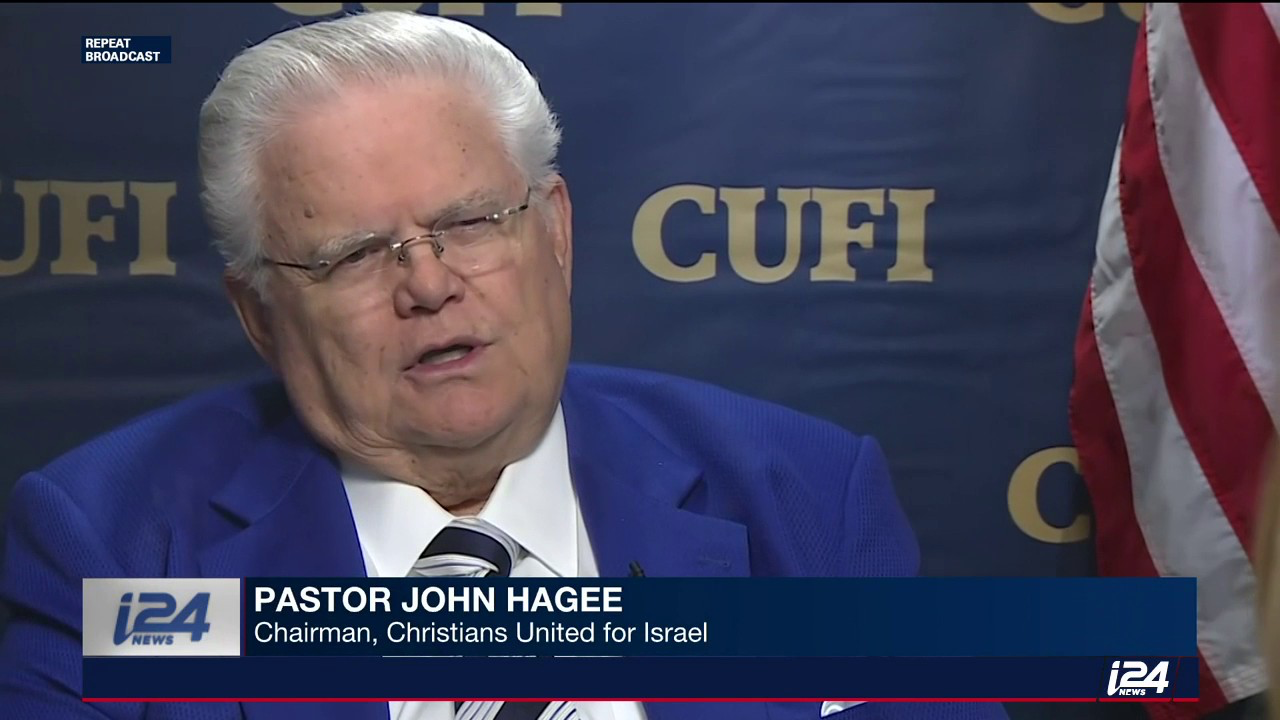 CUFI head to i24NEWS: 'Trump earned political immortality with Jerusalem decree'
John Hagee, the US pastor who founded Christians United for Israel (CUFI), the largest pro-Israel grassroots organization in America, says that President Donald Trump has stepped into political immortality with his decision to recognize Jerusalem as the capital of Israel and move the US embassy to the holy city.
Hagee and some 5,000 other members and supporters of the organization gathered Monday for the 13th annual CUFI summit in Washington D.C., in celebration of Trump's political achievements on US-Israel policy, which the powerful Evangelical lobby group has helped push through Congress.
In an interview with i24NEWS, Hagee likened Trump's impression on the history of Israel to that of former president Harry Truman, under whom the United States became the first nation to recognize the newly formed State of Israel in 1948.
"[I] told president Trump that he was in the position that Harry Truman found himself in 1948," Hagee said of his discussions with Trump in the lead-up to his landmark declaration in December 2017 recognizing Jerusalem as the capital of Israel.
"When Israel declared themselves to be a state, Harry Truman recognized the existence of the State of Israel within 11 minutes. He later apologized for taking so long…Harry Truman made the decision, he stepped into political immortality," Hagee said.
"One hundred years from now [Trump] will be remembered in Israel and he will be remembered by the Evangelicals. He made a promise, and he kept that promise," Hagee said.
Indeed, the support of America's pro-Israel Evangelical Christians was a major factor in Trump's election in 2016 and has undoubtedly helped to shape his administration's agenda — particularly regarding Israel.
CUFI, which counts 4.3 million members from all 50 American states, touts itself as the largest pro-Israel grassroots organization which "strive[s] to act as a defensive shield against anti-Israel lies, boycotts, false theology, and political threats that seek to delegitimize Israel's existence and weaken the close relationship between Israel and the United States."
Read More: I-24