Who was Qassim Soleimani?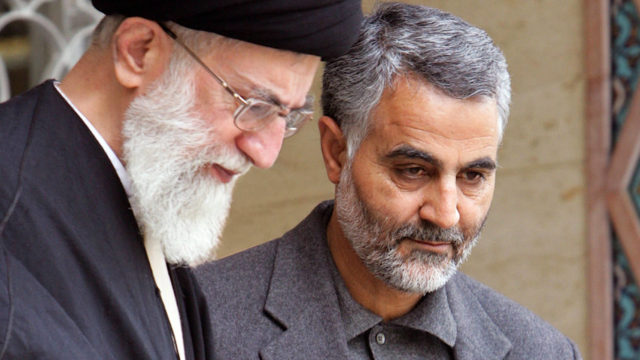 In the chaos of the civil war in Syria and the upheaval in Iraq, one figure was an omnipresent force. Images of him inspecting battlefields or surrounded by young fighters listening attentively to his orders have peppered social media, garnering fawning praise from his legion of fans. But this man was neither Iraqi nor Syrian; he was Iranian and very likely the most dangerous man in the Middle East. Yet before the announcement of his recent demise in an airstrike in Baghdad, many had never heard of him.
General Qassem Soleimani was the supreme commander of Iran's elite and nefarious Islamic Revolutionary Guards Corps' (IRGC) Quds Force and his removal could send shockwaves throughout the world for many years to come.
The Quds Force has been instrumental in engineering Iran's growing hegemony, using proxy Shiite militias to extend its influence across the Middle East and beyond. Iran has pioneered a potent strategy that melds insurgent and state power in a strategy that is evident today in Lebanon, Syria, Iraq, and Yemen.
Soleimani has been recognized as the architect of this strategy. He was responsible for the creation of an arc of influence in the Shia crescent, which Iran terms its "Axis of Resistance"—extending from the Gulf of Oman through Iraq, Syria, and Lebanon to the eastern shores of the Mediterranean Sea. Yet while earlier this year Secretary of State Mike Pompeo described Soleimani as a terrorist, he had remained relatively unknown in the West.
While there is not a great deal of information about Soleimani's early life, nothing known stands out. The US State Department believes he was born in the Shiite holy city of Qom, while Farsi sources dispute this, stating his actual place of birth is the Kerman province.
While seemingly a small detail, Soleimani's place of birth has significant implications. Qom is a religious center; a city bursting with scholars, theologians, students, and those who make their living from the thousands of pilgrims who flock to the city. In stark contrast, the mountainous villages in the remote regions of the Kerman province close to Afghanistan rely on a tribal structure that could have prepared Soleimani for dealing with the tribal societies he would encounter in Afghanistan and Iraq, making him a strong candidate to further the Quds Forces strategic goals in the region.
In a rare autobiographical note, Soleimani once wrote that his father was a peasant and his family was in debt to the government of the Shah. This debt would eventually lead him to move to the city of Kerman in 1975 when he was around 17 to work in construction to earn money to pay off his father's financial obligations.
Soleimani joined the IRGC in 1979 recalling, "We were all young and wanted to serve the revolution in a way. This is how I joined the Guards." With no prior military experience, he rose in the ranks, rapidly taking part in operations against Kurdish separatists early on in his military career. But it was during the bloody Iran-Iraq conflict, where he participated in most major military operations during the war, that Soleimani gained a reputation for bravery and leadership.
Sometime between September 1997 and March 1998, the son of a peasant with no family connections to the Ayatollahs or the influential families in the Islamic Republic, would become the Commander of the Quds Force. The timing is significant. With Iraq no longer a threat due to sanctions, the rise of the Taliban, and Saudi success in Bosnia and Chechnya, its Sunni rivals were seemingly outflanking Shia Iran. Two decades later, that balance of power has shifted dramatically in large part due to the strategies devised and deployed by Soleimani.
In Iraq and Afghanistan, IRGC-supported proxies have wreaked havoc on American military personnel, murdering and maiming scores with improvised explosive devices and mortars supplied by Iran. Yet a man with so much American blood on his hands was able to traverse the region freely and continued to violently spread Iran's influence beyond its borders.
As the decade ended, Iran had footholds in Syria, Lebanon, Iraq, and Yemen. Iran could drive from Tehran to the borders of Israel unimpeded, and the same route could and is used for Iranian weaponry being transported to Hezbollah.
Part of what made Soleimani so much more dangerous than other terrorist masterminds is that his actions were not motivated by a desire for personal gain or power. Instead, he was a 'true believer.' He believed in the ideals of the Islamic Revolution, seeing himself as a soldier and servant of the wider goals of Ayatollah Khomeini and his successor.
He was not a fanatic in the mold of Jordanian Abu-Musab Zarqawi who turned from street thug to founding ISIS, or a Osama Bin Laden with millions of dollars conducting attacks while hiding in a cave. Soleimani was an ideological soldier who came from poverty and proved himself on the battlefields of Iraq and Syria
With the full backing of a State, and with all the financial and logistical trappings such sponsorship entails, Soleimani was able to bring mayhem and terror as well as exert Iranian influence throughout the Middle East. From Tehran, he directed numerous Shia proxy forces in the region, launching attacks on Israel, Saudi Arabia, and Western interests. He was even behind a plot to assassinate a foreign diplomat in Washington DC.
At the end of 2019, Iranian proxies stormed the compound of the US embassy in Baghdad—eerily reminiscent of the storming of the American embassy in Tehran decades earlier. Ayatollah Khamenei tweeted a response to President Trump which held Iran responsible by stating, "You can't do anything."
Earlier this month, the United States launched an airstrike which killed Soleimani and Abu Mahdi al-Muhandis, the deputy commander of Iran-backed militias known as the Popular Mobilization Forces. In eliminating one of the most dangerous men in the world, a man whose hands were stained with the blood of hundreds of innocent Americans and thousands of civilians throughout the region and around the world, the United States sent a clear message: those who traffic in terror and the murder of innocents will be held accountable.
Kasim Hafeez is the Middle East Analyst for Christians United for Israel.
Red more: Jewish Policy Center