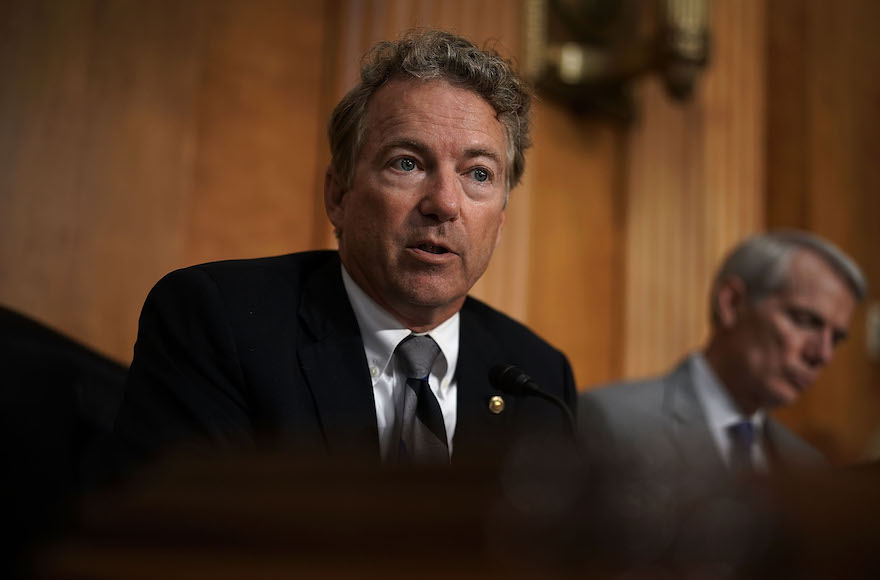 Sen. Rand Paul is blocking US military aid to Israel
Republican Sen. Rand Paul of Kentucky is blocking U.S. military aid to Israel.
Paul, who has previously called to cut defense assistance to Israel, recently put a hold on the U.S.-Israel Security Assistance Authorization Act of 2018, which codifies into law the $38 billion defense aid package for Israel over 10 years that was negotiated in the final days of the Obama administration.
A hold is a parliamentary procedure that allows senators to prevent a motion from reaching a floor vote.
The Senate passed the act in early August; the House of Representatives followed suit the following month. Now the Senate must pass a final version in line with the bill passed by the House.
The American Israel Public Affairs Committee, or AIPAC, has bought advertisements on Facebook identifying Paul as the main force blocking the act, the Washington Free Beacon reported, citing what it called sources close to the effort.
Meanwhile, Christians United for Israel, or CUFI, sent out an Action Alert email blast on Monday to its supporters calling on them to flood Paul's office with calls and letters encouraging him to support the legislation. CUFI also invested heavily in ads in Kentucky to target the senator's constituents directly on the issue, the Free Beacon reported.
Read More: JTA