Turkey, Russia, Iran: Filling the Vacuum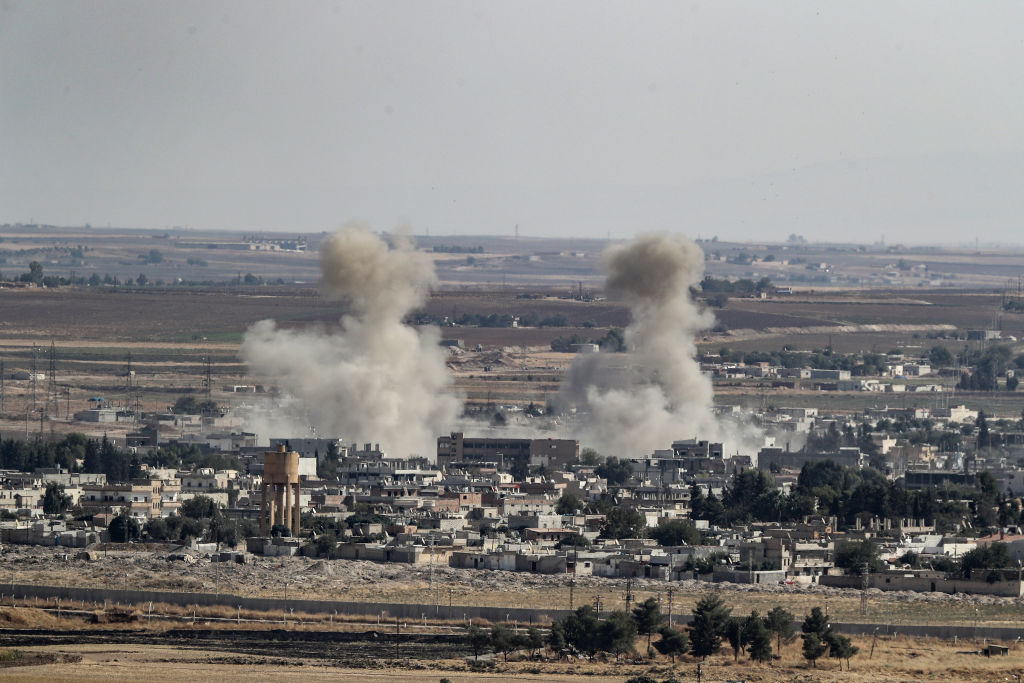 On the Iran-Iraq border a few weeks ago, I found myself just a few hundred meters from Iran's Islamic Revolutionary Guard Corps (IRGC), standard bearers of a regime that has practically copyrighted the phrases, "Death to America" and "Death to Israel."
At the Kurdish Peshmerga military base stood a series of small, white structures spread out across the mountaintops on the Iranian side of the border.
"IRGC observation posts," said one of my Kurdish hosts, eying the mountains warily.
The Pershmerga generals interviewed in Iraqi Kurdistan seemed eager to talk about the threat posed by the IRGC and the Iranian regime—not only to the Kurds, Israel and the broader Middle East, but also to the United States.
They were understandably more reticent, however, in discussing the other looming threat in their immediate neighborhood — an increasingly aggressive Turkey, led by Islamist strongman President Recep Tayyip Erdogan.
Erdogan's longstanding threat to invade northeastern Syria — under the pretext of targeting terrorists from the Kurdistan Workers' Party (PKK) — has become a reality. Following the sudden announcement by the White House that U.S. troops would "no longer be in the immediate area," and that Turkey would be "moving forward with its long-planned operation into Northern Syria," Erdogan's forces made their move. If reports are accurate, their targets, predictably, reach far beyond the PKK and prove that Erdogan had much bigger designs all along.
Turkish forces are reportedly shelling Kurdish areas in northeastern Syria indiscriminately, threatening the area's large Christian minority and deliberately targeting fighters from the U.S.-aligned Syrian Democratic Forces (SDF), a group comprised mainly of Kurdish fighters.
In recent years, these same SDF forces, assisted by American air support, took the lead role on the ground in crushing the ISIS caliphate that had once covered 34,000 square miles of territory across Iraq and Syria. Now they're once again defending their homes and neighborhoods against jihadists — this time, from the Free Syrian Army (FSA), which has aligned itself with Turkish forces in the invasion.
A humanitarian crisis seems all but imminent, with more than 160,000 people having already been displaced by the fighting, according to the UN.
A distraught U.S. Special Forces member on the ground in Syria who witnessed the Turkish invasion up close told Fox News that "atrocities…are happening," and that U.S. forces, their hands tied by the White House's abrupt decision, are "sitting by and watching it unfold."
With President Trump's announcement last weekend that all U.S. forces are withdrawing from northern Syria, and with Turkish forces driving ever further into Syrian territory, the Kurds, in desperation, have now cut a deal with Russia and the regime of Syrian dictator Bashar al-Assad in hopes of finding some protection from Erdogan's expansionism. To see a longtime, loyal U.S. ally forced to turn to two anti-American regimes for survival is particularly troubling. As that same U.S. Special Forces member told Fox News, "The Kurds are as close to Western thinking in the Middle East as anyone."
Erdogan, by contrast, moves further from the West and Turkey's all-but-erstwhile NATO allies seemingly by the day. In response to European leaders' concerns over the Turkish invasion, Erdogan has threatened to allow 3.6 million Syrian refugees to flood Europe— echoing a similar threat he made last month.
While the White House announcement last week stated that, "Turkey will now be responsible for all ISIS fighters in the area captured over the past two years," it was Erdogan who allowed the Turkish-Syrian border to become a virtual sieve and transit point for thousands of jihadi foreign fighters to enter Syria during the height of the ISIS caliphate.
Trusting Erdogan — a committed Islamist in the Muslim Brotherhood mold — to oversee the thousands of ISIS prisoners currently held in northeastern Syria creates an instant fox-guarding-the-hen-house scenario. Already, there are reports that more than 785 ISIS fighters have escaped prison and detention camps in northeastern Syria amid the chaos of the Turkish invasion. Their swift recapture is likely not high on Erdogan's priority list.
Erdogan, has, in fact, openly harbored members of ISIS, as well as the Palestinian terrorist group Hamas on Turkish soil. Erdogan, who lamely insists that Hamas is not a terrorist organization, has repeatedly slammed Israel as a "terrorist state" and engages in some of the most vicious anti-Israel rhetoric by a world leader this side of Iran's mullahs.
His budding alliance with Iran and Russia, and his sweeping crackdowns on Turkish dissidents and journalists, have made Turkey's shift to the East all the more pronounced. In short, Turkey, under Erdogan's radical leadership, can be best described today as NINO, or NATO In Name Only.
The U.S. Congress is looking to push back against Erdogan's brazen foray into northeastern Syria. For months, there has been a bi-partisan effort on Capitol Hill to convince the Trump administration to implement sanctions on Turkey in the wake of its purchase of the Russian S-400 missile system.
The events of this past week will likely only escalate pressure by Congress against the Erdogan regime.
Meanwhile, as Syria's Kurds try desperately to stave off a massacre at the hands of Turkish forces, Iraqi Kurdistan lies directly in the line not only of Turkish but also Iranian fire. As the Iranian regime continues — through Shia militias and other proxies, including the Houthis and Hezbollah — aggressively to expand its influence across Iraq, Yemen, Syria and Lebanon, the Iraqi Kurds interviewed fear that they could be next in Iran's crosshairs.
In September 2018, for instance, IRGC forces fired seven missiles into Kurdistan in what Iran's regime claimed was an attack on Iranian Kurdish dissidents based there. At least 11 people were killed in the strike, which occurred just a short distance from a Peshmerga military position visited by the author.
Today, the U.S. troop withdrawal from neighboring Syria, combined with the glaring lack of response by the West in the face of escalating Iranian and Turkish aggression in the region, have left Iraq's Kurds and other U.S. allies in the Free World feeling more exposed than ever to the expansionist aims of both Erdogan and Iran's mullahs.
Given the Kurds' painful history, including genocide at the hands of Saddam Hussein, and the threats they currently face, it's no wonder that many shared an affinity for Israel — and a concern for the future.
"We defeated ISIS," a Peshmerga general said, "only to see Iran and its Shia militias become stronger. They are filling the vacuum."
Islamist-led Turkey has now joined those same Iranian-led forces in filling that vacuum — with the full acquiescence of the United States.
Erick Stakelbeck is Director of Christians United for Israel's Watchman Project and Host of The Watchman show, seen weekly on TBN and the Fox Business Network.
Read more: GATESTONE INSTITUTE