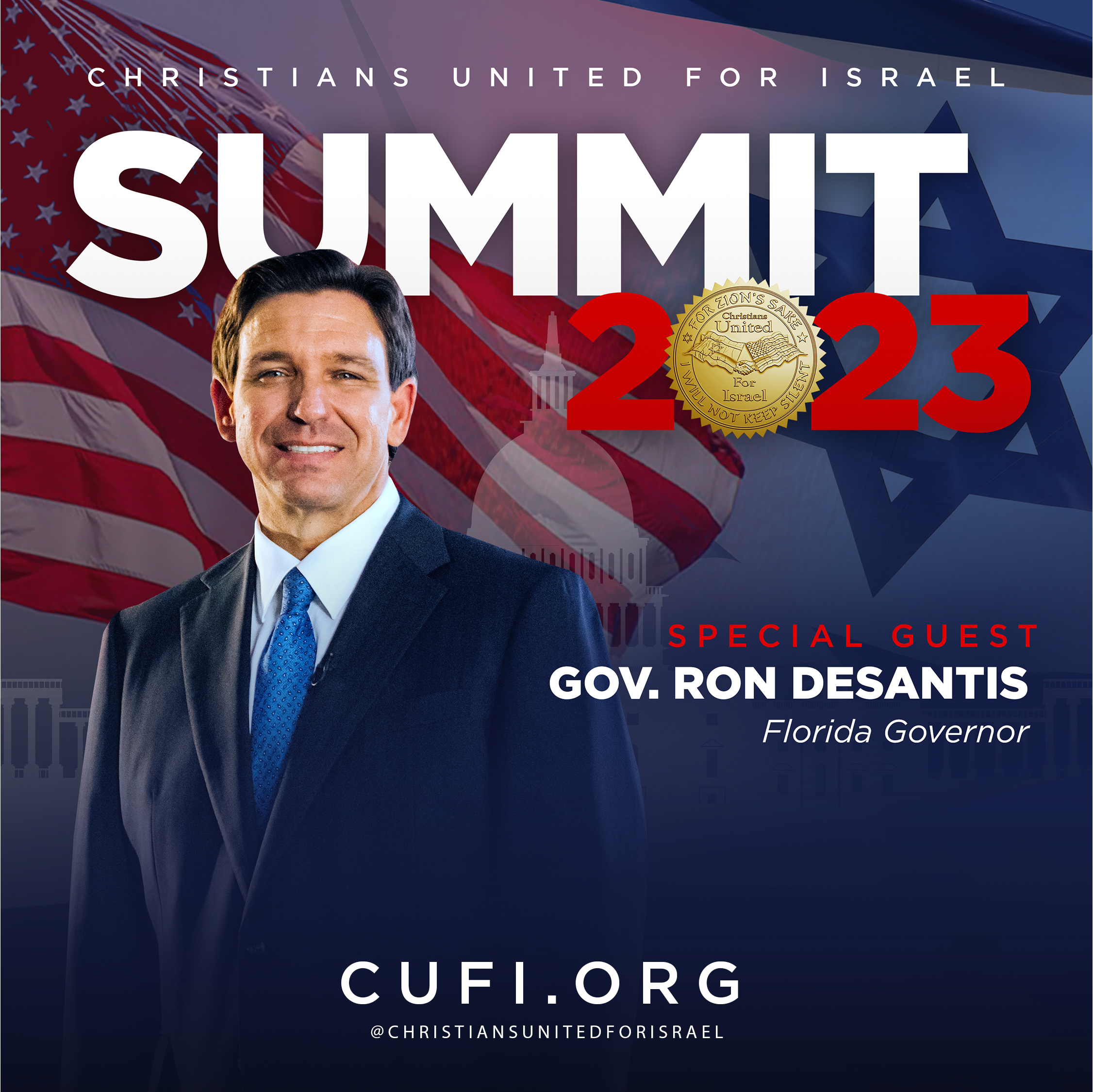 Governor Ron DeSantis To Address CUFI Washington Summit
WASHINGTON – On Wednesday, Christians United for Israel (CUFI), the nation's largest pro-Israel organization, announced plans to welcome special guest Governor Ron DeSantis to address the group's annual Washington Summit as the morning session's keynote speaker. Governor DeSantis will be speaking at noon on Monday, July 17th.
The Summit is open to the media, but space is limited. Journalists wishing to request press credentials are asked to please follow this link and fill out the associated form.
"Governor DeSantis has a long history of standing with Israel and the Jewish people. We look forward to hearing what the Governor has to say about the importance of the U.S. – Israel relationship, combating antisemitism, and standing up to Iran," said CUFI founder and Chairman Pastor John Hagee.
In addition to the Governor, CUFI has announced that Vice President Mike Pence and former U.S. Ambassador to the United Nations Nikki Haley will serve as the keynote speakers during the Summit's Night to Honor Israel on Monday evening.
Additional Summit speakers include Senators Joni Ernst and Tom Cotton, House Majority Whip Representative Tom Emmer, Representatives Claudia Tenney, Mike Lawler, and Pat Fallon, IDF Lt. Col. (Res.) Jonathan Conricus, Walter Russell Mead, and Dr. Jonathan Schanzer, among others.
With more than 10 million members, Christians United for Israel is the largest pro-Israel organization in the United States and one of the leading Christian grassroots movements in the world. CUFI spans all fifty states and reaches millions with its educational message.
The CUFI Action Fund, a nonprofit 501(c)(4), nonpartisan organization, is related to the nation's largest pro-Israel organization, Christians United for Israel (CUFI). The Action Fund is dedicated to ensuring our elected officials hear the perspective of the millions of Christian Zionists across the country.
###