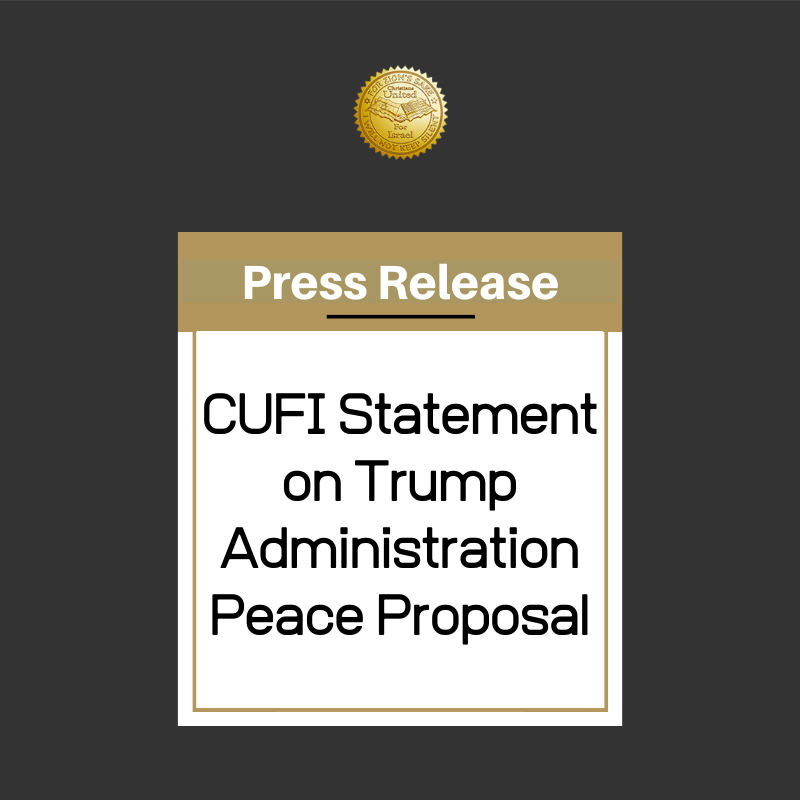 CUFI Statement on Trump Administration Peace Proposal
FOR IMMEDIATE RELEASE
January 28, 2020
WASHINGTON – On Tuesday, the leadership of Christians United for Israel (CUFI), the nation's largest pro-Israel organization, issued the following statement in response to the Trump Administration's Middle East peace proposal:
"President Trump has shown time and again that he is the most pro-Israel president in U.S. history. This plan reflects that tradition and is the best peace proposal any American administration has ever put forth. The President's vision ensures Israel's defensible borders, a united Jerusalem, sovereignty over biblical holy sites, and provides an opportunity for the Palestinians to choose peace," said CUFI founder and Chairman Pastor John Hagee, who attended Tuesday's formal announcement of the proposal at the White House.
"CUFI, as we have since our founding, stands with the decisions of the democratically elected government of Israel. We hope the Palestinian leadership will not miss yet another opportunity for peace in the region," Hagee added.
With more than 8 million members, Christians United for Israel is the largest pro-Israel organization in the United States and one of the leading Christian grassroots movements in the world. CUFI spans all fifty states and reaches millions with its educational message.
###