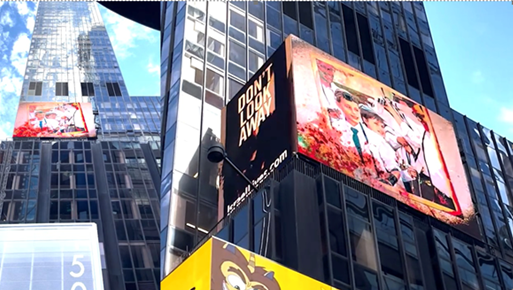 CUFI Launches Massive Times Square "Don't Look Away" Ad
FOR IMMEDIATE RELEASE
October 25, 2023
CUFI Launches Massive Times Square "Don't Look Away" Ad
More Than $2 Million Raised To Support Israeli Communities In First Days Of Emergency Relief Campaign 
WASHINGTON – On Tuesday, Christians United for Israel (CUFI), the nation's largest pro-Israel organization, launched a national ad campaign on "The 1500 Broadway Spectacular" billboard located in the heart of Times Square to maintain awareness of the atrocities committed on 10/7 and drive financial support for an emergency relief campaign that has already collected more than $2 million.
One hundred percent of funds raised by the campaign go directly to Israeli emergency medical care including in-patient hospital care for the wounded, mental health treatment for survivors, replenishing and acquiring supplies and equipment for first responders, as well as meals for Israeli soldiers and shelter for those made homeless by the attacks.
To watch the first of the ads, please click here.
"Since the horrific October 7th Hamas massacre, we've seen misinformation fly across the airwaves while people rally in support of these barbarians. One strategy for fighting back against this antisemitic hatred is simple: counter their lies with the truth," said CUFI founder and Chairman Pastor John Hagee.
"We are starting this effort by focusing on the message 'Don't Look Away' because it is obvious that is exactly what the enemies of Israel want us to do. Many, both here and in the international community, have already reverted to type and are turning a blind eye to the horrors of 10/7 while shining a spotlight on Israel's 'disproportionate' response, but we will not let them. This war started when terrorists fell from the sky on 10/7, not when Israel responded by fighting for their very survival" said CUFI Action Fund Chairwoman Sandra Parker.
With more than 10 million members, Christians United for Israel is the largest pro-Israel organization in the United States and one of the leading Christian grassroots movements in the world. CUFI spans all fifty states and reaches millions with its educational message.
The CUFI Action Fund, a nonprofit 501(c)(4), nonpartisan organization, is related to the nation's largest pro-Israel organization, Christians United for Israel (CUFI). The Action Fund is dedicated to ensuring our elected officials hear the perspective of the millions of Christian Zionists across the country.
###